Monday Night Politics – Meet the Candidates
The Dallas Examiner | 1/13/2014, 2:59 p.m. | Updated on 2/12/2014, 5:27 p.m.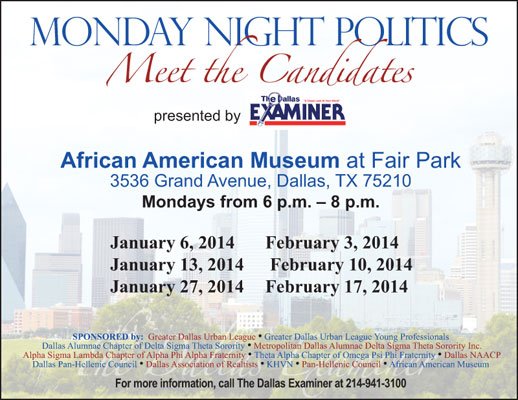 Monday Night Politics – Meet the Candidates, presented by The Dallas Examiner for Primary Elections March 4, 2014, will be held from 6 p.m. to 8 p.m. on Mondays from Jan. 6 though Feb. 17 at the African American Museum, located at 3536 Grand Ave., Dallas TX 75210.
Columnist Casey Thomas will moderate the forums.
During the forum, candidates will discuss their format and answer questions form the audience. Many candidates, including those not on the list, will be available to shake hands and talk face-to-face with voters.
Dates and Invited Candidates:
January 6
Justice of the Peace, Precinct 1, Place 2
Valencia Nash (Incumbent)
Vic Buchanon
Constable, Precinct 1,
Cleophas Steele (Incumbent)
Derrick Evans
Justice of the Peace, Precinct 5
Juan Jasso (Incumbent)
Billy White
January 13
U.S. Representative, District 30
Eddie Bernice Johnson (Incumbent)
Barbara Malory Caraway
U.S. Representative, District 33
Marc Veasey (Incumbent)
Tom Sanchez
State Representative, District 109
Helen Giddings (Incumbent)
Genevieve Gregory
State Representative, District 110
Toni Rose (Incumbent)
Sandra Crenshaw
Democratic Party Chair
Darlene Ewing (Incumbent)
Heath Harris
January 20
District Clerk
Kissi Jones
Tarsha Hardy
Rose Renfroe
Johnny C. Gomez
Felicia Pitre
Cathy Sanchez
Dallas County Treasurer
David Bradley
Bennie Brown
Paul Ingram
Pauline Medrano
January 27
Judge 44th Judicial District
Carlos Cortez (Incumbent)
Bonnie Lee Goldstein
Judge 101st Judicial District
Marty Lowy (Incumbent
Staci Williams
Judge 204, Judicial District
Lena Lavario (Incumbent)
Tammy Kemp
Judge 255, Judicial District
Lori Chrisman Hackett (Incumbent)
Kim Cooks
February 3
Judge 265, Judicial District
Jennifer Bennett
William R. Barr
Anthony Eiland
Judge 282, Judicial District
Andy Chatham (Incumbent)
Amber Givens
Judge 283, Judicial District
Rick Magnis (Incumbent)
Justin Lord
Judge 291, Judicial District
Stephanie Mitchell
Susan Anderson
Judge 292, Judicial District
Larry Mitchell (Incumbent)
Brandon Birmingham
Judge 363, Judicial District
Tracy Holmes (Incumbent)
Nigel H. Redmond
February 10
Judge 301, Judicial District
David Hanschen
George White
Mary Brown
Craig Bonham
Lawrence Praeger
Judge 304, Judicial District
William A "Bill" Mazur, Jr. (Incumbent)
Andrea Martin
Judge 330, Judicial District
Andrea Plumlee (Incumbent)
Randall Grubbs
Criminal Court, 4
Nancy Mulder
Remeko Edwards
Criminal Court 5
Etta Mullin (Incumbent)
Lisa Green
Trey Bunch
February 17
County Criminal Court 10
Rob Canas (Incumbent)
LeDouglas Johnson
County Criminal Court 11
Shequitta Kelly
Melodee Armstrong
County Probate Court 2
Chris Wilmoth (Incumbent)
Ingrid Michelle Warren
County Probate Court 3
Michael E. Miller (Incumbent)
Margaret Jones Johnson
February 24
State Board of Education, District 13
Andrea C. Hilburn
A. Denise Russell
Erika Beltran
Discussion: Propositions on Primary Ballot
State Sen. Royce West (confirmed)
County Judge Clay Jenkins (invited)
For more information, contact The Dallas Examiner at 214-941-3100.