Parental involvement at D.C. school in a class by itself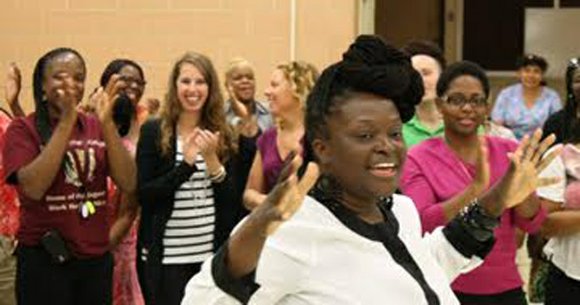 "Successful parental engagement is built around supporting parents and engaging them to help the children academically – not just their own kid, but the whole school environment," said Teaching for Change Associate Director Allyson Criner Brown. "It's not one-sided, it gives parents the opportunity to take the lead and participate. The school should be a village of all adults working together to support the students."
But getting all those adults to operate as a harmonious village often proves challenging, and all parties – parents, administrators and teachers – bring their own concerns to the table.
There are also other barriers.
"Some people really have serious things going on in their lives, and they want to do well by their kids but have basic needs that need to be met," Brown explained. "They're dealing with poverty, and inequalities … and other forms of support are not clear or available to them."
And schools themselves have internal obstacles toward effective family engagement. Often, teachers, staff and leadership are at odds about the role of caregivers outside the home. At worst, some see parents as a hindrance that must be fixed or excluded. At best, some want to partner with parents, but lack the time, support, knowledge and human resources to do so.
In 2008 when Orr hired retired union representative Deborah Thomas as its parent coordinator, the school was a different place. The parent center was simply Thomas' office – and by all accounts, parents barely came past the security desk. There were few opportunities for them to lend a hand at school, and when meetings and activities did occur the attendance was dismal. In 2010, then-Principal Michelle Edwards invited Teaching for Change to partner with Orr and support Thomas' efforts.
"We met with Ms. Edwards and she was familiar with work we had done with other schools," Brown recalled. "There was the thought that parents needed to be involved, but at the same time they didn't want parents in classrooms, or interacting with teachers."
Thomas began offering parent workshops on life skills and understanding the public school system. Edwards and many of the teachers toured their students' neighborhoods, and began doing home visits to meet with parents. Slowly, Edwards, Thomas, teachers and parents began to work together.
Today, Orr is in transition, having welcomed a new principal, Niyeka Wilson, to their village. While there is still work to be done, especially in terms of standardized testing, the school is well on its way to being the best version of itself. Retention of highly effective teachers is at 100 percent (compared to the 83 percent DCPS average). Student proficiency in math and reading grow each year; math jumped 20 percent in one school year. The teacher-student Garden Club grows flowers and vegetables on premises, and the school maintains partnerships with more than 10 community organizations. At the start of this year, Orr made national news when first lady Michelle Obama, Olympiads Allyson Felix and Dominique Dawes, and Shaquille O'Neal visited as part of the "Let's Move" campaign.
Watching it all unfold has been Pamela Wilson, head of security. She came to Orr in 1987 as an educational aide and switched over to security in 1992. Her desk is right outside the Parent Center, steps from the main entrance. As the first person most people see when they enter the building, she's done a lot to funnel parents to Thomas.
"The teachers are dedicated, hard workers. Parents are younger now, and the kids are not the same as in 1987. But we're family. We gel together and try to get these children to learn and be respectful," she explained. "People come in here to volunteer and they say, 'Oh, this is really nice!' We're the best kept secret."