MLK Day: A Day of Service
Honoring the legacy of Dr. Martin Luther King Jr.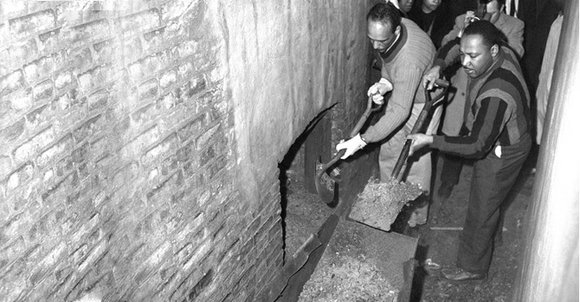 As King stated, "If you can't fly then run, if you can't run then walk, if you can't walk then crawl, but whatever you do you have to keep moving forward."
In whatever way one chooses to give, the purpose of the day is to give from the heart.
"Everybody can be great ... because anybody can serve," King once said. "You don't have to have a college degree to serve. You don't have to make your subject and verb agree to serve. You only need a heart full of grace. A soul generated by love."
There are several opportunities to serve on Monday. The following are a few suggestions for those living in Dallas/Fort Worth:
Martin Luther King Jr.
Birthday Celebration
Parade/March
The volunteers for this service activity will be engaging others in discussions about community challenges and ways to address them. They will also ask spectators about their dreams for Dallas and what they can do to make them possible.
Place: 3300 Martin Luther King Jr. Blvd.
Contact: Kate Ball at 214-306-8400 ext 107 or kball@dallasafterschool.com
The Bridge
Volunteers are needed to help provide shelter for 325 individuals experiencing homelessness, as well as help with health care, job resources, benefit assistance and meals for at least 800 individuals per day.
Place: 1818 Corsicana St.
Contact: Hayedeh Jahansouz at 214-670-1128
Building Communities
Workshop
Participants will recognize local heroes of the past and present, share their stories, and issue a call to action to Dallas citizens for opportunities to support the causes and issues that these heroes have championed.
Place: bcWORKSHOP, located at 416 S. Ervay St.
Contact: Trena Lechleitner at 214-252-2900 or trena@bcworkshop.org
Take Up the Towel MLK CityServe Day
Volunteers can choose to serve lunch to parade watchers, sand and paint personal bookcases for children attending Cornerstone Baptist Church's homework center, help children paint personal bookshelves at Lawson Road Baptist Church, participate in a prayer walk at George W. Truett Elementary School, or set up a prayer walk at their neighborhood school.
Place: 1819 Martin Luther King Jr. Blvd. (approach from the north because streets are closed for the parade)
Contact: http://www.dba.net/cityserve
North Texas Food Bank
Volunteers will sort boxes, box or bag food that will be distributed to those in need of food services.
Place: Dan Morton Facility, 4202 Dan Morton Drive
Contact: Melissa Holman through www.ntfb.org/volunteer or melissah@ntfb.org
CitySquare
Volunteers will build wall partitions, participate in a neighborhood cleanup, and have coffee and conversations with homeless neighbors in the area.
Place: The Opportunity Center, 1610 South Malcolm X Blvd.
Contact: Elizabeth VanOort at evanoort@citysquare.org
American Red Cross
Volunteers will canvass neighborhoods in teams to provide fire prevention and emergency preparedness information to the community.
Place: Chisholm Trail Chapter of the American Red Cross, 1515 S Sylvania Ave., Fort Worth
Contact: Tiffany Chu at 817-335-9137 x 225 or tiffany.chu@redcross.org
Project Transformation
Volunteers will paint, clean and organize children's art room.
Place: 547 E. Jefferson Blvd.
Contact: http://www.projecttransformation.org
100 Black Men of Greater
Dallas Inc.
Volunteers are needed to serve as a beacon of leadership by utilizing each one's diverse talents to create an environment where children are motivated to achieve and to empower people to become self-sufficient shareholders in the economic and social fabric of the community through mentoring.
Contact: Robert Tapley at 972-898-0186
AARP
Volunteers are needed to provide companionship to patients and/or to the caregiver of the patient. This event could take place in private homes, nursing facilities or assisted living facilities.
Contact: Angel Heath at aheath@hospiceplus.net
Reading and Radio Resources
Volunteers record audio books for people with learning differences or visual, physical or reading limitations.
Also, a digital editor with computer skills and music/narration editing experience is needed to edit the recordings.
Place: 2007 Randall St.
Contact: 214-871-7668 or jane@readingresource.org
For additional opportunities to serve, visit http://www.allforgood.org. or http://www.volunteermatch.org.