Monday Night Politics: Incumbents take center stage at political forum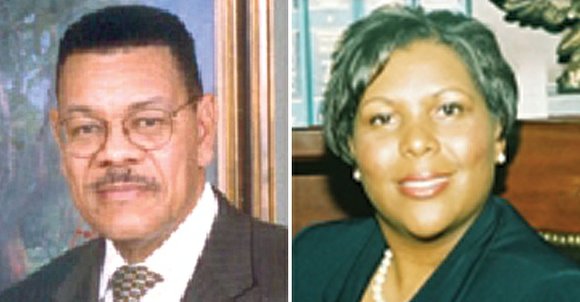 "In order to serve as constable in Texas, you have to be a certified peace officer if you are elected or appointed," he said. "I ended up at a police academy with these 21 year olds out of the Marines that I trained with. Somehow, I got through. Having gone to the police academy puts a totally different perspective on the job before I went in."
Evans was the Precinct 1 constable who had been suspended after being charged with criminal conspiracy for the illegal sale of raffle tickets in order to raise money for his re-election campaign. He was tried and suspended in July 2012 and is awaiting results of this charge.
Though Evans will fight to regain his seat, Steele believes he is the best person for the position.
"I am a believer in Precinct 1 and I know both of the judges and think I can work well with them," he said. "As you all have provided me support for the past 31 years, I ask again that you support my efforts for constable in Precinct 1."
The last race featured that evening included justice of the Peace, Precinct 5 incumbent Judge Juan Jasso and his opponent Billy White, who is running for political office for the first time.
"This is basically new to me, however, just like Juan Jasso, in his first year, he did not know everything and like Judge Steele in his 30 years, he did not know everything but because they were given an opportunity to serve, they did well and I hope to be given that opportunity as well," White said.
He said he wanted to run for office in order to help the youth.
"There were a lot of things going on in our community that I thought needed to be changed," White said. "I started noticing that a lot of crimes that were being committed in my neighborhood were by young people and did a little research to find out why and found out that the youth were being raised in single family homes, others were suffering from depression and mental illness and some kids were being truant in schools."
White said nothing was being done to transform these young people's lives.
"When kids would get in trouble, they would go the justice of the peace court and all they did was accept the fines that the parents paid and let these kids out," he said. "The JP court is the first court system that our youth see as they enter into their teenage years and also into adulthood. At age 14, 15 and 16, they become immune to the court system and when they become 18, it's no big deal to go to criminal court and then going into the pipeline of prison. I want to be there to help these kids with mentoring programs for first-time offenders. I want to become justice of the peace so that I can be there and help these children and not just be there to be the judge and to say that you committed this crime so you must do this penalty."
Jasso has been justice of the Peace for 19 years in Precinct 5.
"This precinct has changed every time there is a census," Jasso said. "The thing about being a JP is not only knowing the law but also knowing how to apply it in a fair and impartial manner. You need to treat everybody with dignity and respect and that's what I try to do. We have an open door policy and anybody that wishes to come in and talk to me can. Sometimes, we may not have the answer but we try our best to guide them and give them the time to represent their case."