Meeting the local political candidates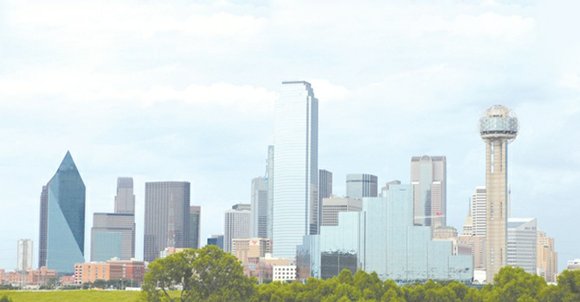 The Dallas Examiner
Monday Night Politics – Meet the Candidates was a success again. Monday night candidates for district clerk and county treasurer talked about whom they are, why they are running for office, what they feel they will bring to the office to make county government better, and why they feel they are the best person for the office.
The candidates fielded questions from the audience – the audience included practicing attorneys who use the district clerk's office on a daily basis, the current district clerk, Gary Fitzsimmons, who is not running for re-election, and John Warren who is on the ballot for the March 4 Democratic Primary but is not opposed.
It was a fitting occasion to celebrate the birthday of Martin Luther King Jr. who fought tirelessly for the right for Black people to vote and be involved in the voting process.
Monday Night Politics engages the candidates and the audience in an intelligent exchange.
The Dallas Examiner presents Monday Night Politics but approximately 10 community organizations sponsor the forum to help make it a success. They are present every Monday night in large numbers. The sponsors take the messages back to members of their organizations and the community.
MNP sponsors:
• Urban League of Greater Dallas
• Greater Dallas Urban League Young Professionals
• Dallas Alumnae Chapter of Delta Sigma Theta Sorority
• Metropolitan Dallas Alumnae Delta Sigma Theta Sorority Inc.
• Alpha Sigma Lambda Chapter of Alpha Phi Alpha Fraternity
• Theta Alpha Chapter of Omega Psi Phi Fraternity
• Dallas Alumni Chapter of Kappa Alpha Psi Inc.
• Dallas NAACP
• Dallas Association of Realtists
• Pan-Hellenic Council
• African American Museum
• Iota Phi Theta Fraternity, Inc.
• KHVN
• 411 Reality Radio
Casey Thomas, a weekly columnist at The Dallas Examiner, moderates the forums. He is firm and keeps the discussion focused.
The momentum is contagious.
Gary Fitzmmons stated at the end, "This is by far the best forum."
Many who have attended every Monday night echoed his sentiments.
Next week, the forum will consist of judicial candidates in contested races. Every Monday night until Feb. 24 judicial candidates will be presented. On Feb. 24, candidates for the State Board of Education will be presented.
In past elections, there has not been much interest in judicial races, however, it is different this year. There are many new attorneys, many are prosecutors in Dallas County and new to Democratic electoral politics. Many of the prosecutors are running against incumbent judges that were elected when Dallas County turned "blue" – or Democratic. Many of the incumbent judges were active in turning Dallas County blue. Now they are facing opposition.
The public is particularly interested in judicial races this year because of recent actions that demonstrated the discretionary power of judges. It is important that we elect judges who will be fair. How do we determine if a judge will be fair? What experiences does a judge need to have to be fair to both the prosecuted and the defended?
Recently, a judge in Fort Worth sentenced a young man who killed four people in an automobile accident while driving drunk to an expensive rehabilitation center instead of prison. In a similar case a young Black man was sentenced to prison. According to reports the judge tried to find a rehabilitation facility for the Black man but no facility would accept him.
Many voters are waking up to the fact that it is our votes that put these judges in their seats, and it is our votes that can make a difference seating new judges and/or keeping good judges that could potentially decide the fates of ourselves and/or our loved ones, regardless of which side of the law we might be standing.
For more information about Monday Night Politics – Meet the Candidates, visit http://www.dallasexaminer.com/politics. To become part of the conversation, send your letters to mbelt@dallasexaminer.com.