Monday Night Politics: Local, state reps. face off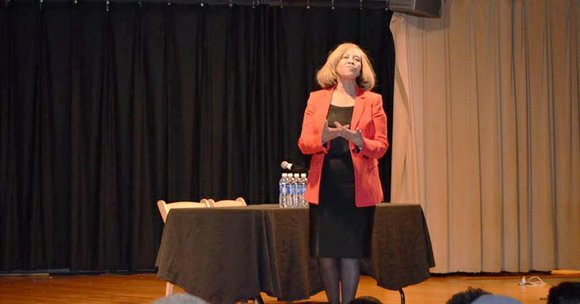 The Dallas Examiner
Several candidates engaged in disputatious dialogues with their opponents about why they should win office during the second round of Monday Night Politics – Meet the Candidates on Jan. 13 at the African American Museum in Fair Park.
The forum featured candidates running for positions in U.S. representative District 30, U.S. representative District 33, state representative District 109, state representative District 110 and the Democratic Party chair.
The night started with Barbara Mallory Caraway, former Democratic Texas House of Representative for District 110, who is running for U.S. representative District 30. Caraway is also the wife of Dallas City Councilmember Dwaine Caraway.
Her challenger, incumbent Eddie Bernice Johnson, was not able to appear due to a prior engagement in Washington, D.C.
"I ask for your vote on March 4 to send me to Washington to deal with the radical elements that's going on in Washington now with the tea party, the Republicans and those who are really trying to take advantage of the poor, the elderly, students, the unemployed, as well as government employees, those who are not able to speak for themselves," Caraway said.
According to Caraway, Washington has changed over the years and that is why she feels a new person is needed in this position which has been held by Johnson for over 20 years.
"Washington is a really different place than it was 22 years ago," she said. "And it requires an individual who can be on the ground, who can naturally engage with the constituents that they represent. So I am asking you on March 4 to change directions for our future, for our young people, for those who are seeking jobs, for those who are asking just for an opportunity to participate in the American dream and that requires someone who has the energy, the experience, the tenacity and that requires that when we are elected to office, that we are public servants for the people."
If elected, Caraway said her number one priority for her constituents would be to focus on education.
"It's about training young people to be gainfully employed as well as making sure they have a future with their skills," Caraway said. "I also plan to make violence a public safety issue and take a holistic approach to help reduce violence. I want to be in Washington so I can help pass an immigration reform bill, to make sure that student loans are protected, fight against payday loan companies that are preying on our communities, and to look at ways we can create jobs, economic development and help communities that feel that they have no hope and give them hope."
The candidates for the U.S. representative District 33, Marc Veasey, the incumbent, and Tom Sanchez, the challenger, were not present. Veasey had a prior engagement in Washington, D.C.,
For state representative District 109, incumbent Helen Giddings gave her testimony of why people should re-elect her. Her opponent, Genevieve Gregory, was not present.
"I serve on the three most powerful committees in Austin," Giddings said. "I serve on the appropriations committee, state affairs committee and on the calendars committee. My highest priority on the state Legislature is education and trying to make sure every child has the opportunity to reach his or her full potential."