Monday Night Politics: Local, state reps. face off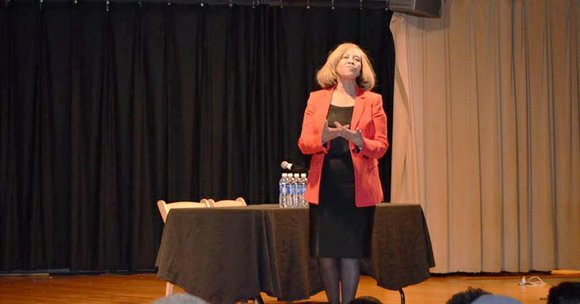 Harris said the main reason he is running is because he believes the chair needs more energy and direction.
"I would challenge each of you to go to the Dallas County elections website and look at the election results," Harris said. "That's where we are the most vulnerable. Ms. Ewing talks about having an undefeated record of what she has done. It's what we as a party have done to make sure voters come out and make this county blue. In the gubernatorial years, the numbers have not been successful in getting our people back to the polls. We have to have someone that is willing to go to people and say no you can't just vote in the presidential elections, we need you to come back during the gubernatorial elections because if you do that, not only will we maintain Dallas County blue but we can maintain this state blue."
Ewing said she was asked to run for this position again despite plans to step down.
"At the time I took over county chair, we had $1,000 in the bank and we owed the IRS $20,000 and we were four months behind on the rent," she said. "In 2010, we had over $800,000 to run our coordinated campaign. If you are the county chair, you need to set an example and that means you need to be a sustaining member. Also, people told me that 2014 is a tough year and we got a district attorney, Craig Watkins, to get re-elected and in 2010, 73 percent of his votes came from straight ticket votes. They came from the Democratic Party's coordinated campaign. When he's under attack and our other elected officials are under attack, that's not the time to shift horses and allow someone to come in who has never run a coordinated campaign. So as a result, I was asked not to leave."
Harris said his goals are to recruit more young people to get involved in the Democratic Party.
"With the right attitude we can recruit and rejuvenate young Democrats," Harris said.
The last office was for state representative District 110, where incumbent Toni Rose will challenge opponent Sandra Crenshaw.
Rose was not present at the forum.
"Because I am one of a few African Americans who will speak out against injustices and I do know that when I seek office that I am going to have to run against a former Dallas County JP, probably a state senator, a county commissioner and a DA, the three that would be known as the three that would be king," Crenshaw said. "A queen bee at a Democratic Party with the socially marginalized, I am not invited. So therefore, my candidacy and platform in my race would be the 50th anniversary of the 1964 Civil Rights Movement. My platform will be to fight against those who abuse the power to deprive of us of our civil rights."
Crenshaw said she decided to run for office after being inspired by the late Nelson Mandela. She said there are many things that need to be taken care of in South Dallas.
"When Rep. Giddings was up here talking about how her district in South Oak Cliff has the highest voter turnout, what she failed to mention was how South Oak Cliff also has the highest number of unemployment, the highest crime rate, the highest number of people on food stamps, the highest number of people with HIV, so I felt that through my life experiences and my commitment to support social justice, the reason why the citizens of South Oak Cliff and District 110 vote very good and give faith in people who look like us to solve their problems is because they don't know how to appeal back. They don't know how to make their vote work for them. That's what inspired me to run. My first priority if elected would be to address the war on poverty."