The significance of marching, remembering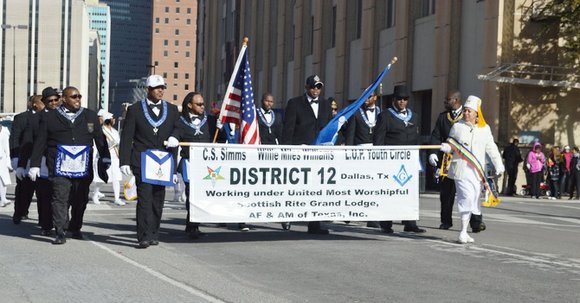 The Dallas Examiner
With a sense of respect, unity and tradition, hundreds of warmly dressed visitors stood along the cool breezy streets heading from downtown to South Dallas to view the 32nd annual Dr. Martin Luther King Jr. Parade/March on Saturday. The event was held to recognize Martin Luther King Day on Monday. The parade began at City Hall at 10 a.m., passed the MLK Center and ended at the main entrance to Fair Park.
Alicia Washington, a third grade teacher, discussed the importance of the parade.
"Today's significance for us is that Dr. King gave civil rights for all people. I was trying to explain to my son earlier it's not just for African Americans, but all people," she remarked. "We try to make it a family tradition every year."
For Virginia Meador, vice president of the Stiletto Divas social and service club, the day was one of joy and the celebration of King's work.
"It's [about] unity … just love. Just seeing everybody come together and just enjoying and celebrating the cause – because without him we wouldn't be able to do what we're doing."
Several city and state leaders participated in the parade, including members of the Dallas City Council and a Texas senator, as well as represenatives of the police department, Sheriff's Office, and area constables.
The Southern Methodist University marching band may have been a highlight of the parade for those who remember King speaking in SMU's McFarlin Auditorium in 1966.
Civic and professional organizations were also out in force on the cold, sunny morning. Pop Warner football teams were represented, as were local high school bands, the Buffalo Soldiers motorcycle club, the nonprofit Nappiology, the multicultural golf association Ladies Tee Time League and Bike Friendly Dallas among the many participants. The various marchers, vehicles and floats snaked through the approximately 4.7 mile route during which drill teams and bands would stop and perform a routine for the crowd.
Staci Williams, a Hockaday graduate currently running for 101st Civil District Court judge, talked about the significance of the event.
"I grew up in the time of segregation and I remember when water fountains were marked 'Black' or 'White' or when schools were segregated, so to celebrate this day of Martin Luther King, when we've come a long distance. But we have so far to go," she said.
Many at the parade pondered that same topic. The music and pageantry was not just about how far society has come during King's life and in the years since his death but also about the work still left to do.
As a teacher, Washington felt much of that labor began in the classroom.
"Most definitely education," she emphasized as she spoke about the key issue that would carry equality further. "It's always education. Education and history go hand-in-hand, side-by-side."
Sherman Brisco, who marched in the procession with The United Most Worshipful Scottish Rite Grand Lodge of Texas, had a similar perspective about the path that America should strive toward.
"I think we have come a long way, but understanding each other as groups and different organizations, cultures – understanding is still something that we need to work on," he stated.
"Even though we come from different backgrounds we all should have the same goals and I do believe we do have the same goals," Brisco explained. "It's just important that we learn each other and understand we're all in this together."
Parade attendees didn't show signs of giving up hope for the future, however. Many remarked about the inclusiveness of both the groups in the parade and the individuals watching on the sidelines.
"This is wonderful," Williams expressed. "We have people from all over Dallas, all races, all walks of life, all economic groups. It's just wonderful."