More than Girl Scout Cookie sales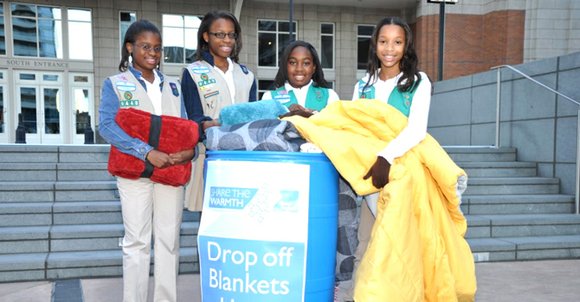 The Dallas Examiner
Sarah Breedlove Walker made history when she became the first African American female millionaire in the early 1900's through her invention of a conditioning treatment to straighten hair. Her business, known as Madame C.J. Walker, was considered one of the most profitable and successful Black-owned businesses during that time period.
Walker was a beauty entrepreneur, innovator, philanthropist and leader among African American females.
Today, organizations such as Girl Scouts of Northeast Texas hope to cultivate the next generation of female entrepreneurs, such as Walker, through their diverse leadership program.
"Our mission is to build girls of courage, confidence and character in order to make the world a better place," said Colleen Walker, CEO of Girl Scouts of Northeast Texas. "We are the largest leadership development organization for girls in the world."
The local affiliate currently has over 32,000 girls and 17,000 adults in its 32 counties in Northeast Texas.
Known mostly for their iconic images such as cookies, crafts and camping, Walker said the organization is much more than that.
"We strive to give back to those in need and do things to help the environment, orphanages and medical needs," she said. "We ask our girls to go on a leadership journey and that starts with our littlest Girl Scouts in kindergarten and first grade."
One of the community service projects the group has been working on is Shoes for Champions, a project where a local troop leader inspired her classmates to donate athletic shoes to underprivileged children in Africa. More than 100 pairs were donated.
Another unique project featured a program called Solar-Powered Flashlights, where a Pakistani Girl Scout and an Indian Girl Scout created an awareness among their friends and neighbors about the difficulties that Kashmiris face today. Their project focused on fundraising, as well as obtaining and shipping more than 1,000 solar-powered flashlights to the people of the Kashmir region, enabling the students in this area the ability to study after dark.
Local projects are funded through the famous Girl Scout's Cookie Program that runs through Feb. 17. Girl Scouts will be selling their cookies throughout the Metroplex to help raise money for their local troops.
"The Girl Scout Cookie program is the cornerstone of our economic and literacy platform," Walker said. "We feel very strongly that girls need to develop economic literacy skills and the Girl Scout program has really blossomed into what we think is one of the most powerful skill-building activities that a girl can do growing up. Girls are learning at age 5, 6 and 7. That's their first introduction into business's ethics."
Walker said what makes the organization so proud is the fact that 80 percent of female entrepreneurs and business owners in this country are former Girl Scouts.
"It's an astonishing statistic," she said. "When you interview today's female businesses leaders, many of them will say that they really got their start in business with the Girl Scout Cookie Program. I think it's very important for our young girls to know about female entrepreneurs and know where they come from."