How to be a Gentleman
Black men team up to help boys transition into manhood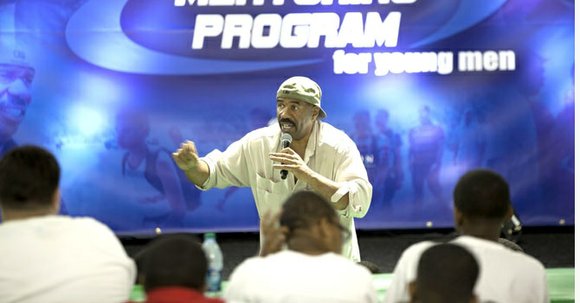 The Dallas Examiner
Growing up isn't easy, especially for the many young Black men living without positive male role models.
From June 10 through June 15, award-winning entertainer Steve Harvey and his wife, Marjorie, co-hosted The Steve Harvey Mentoring Program for Young Men for around 100 teenage boys – ages 13 through 18 – who do not have father figures in their lives during Father's Day weekend.
This year, Harvey had a strong message for youth who participated in his sixth annual national mentoring camp for young men held on his private campgrounds: Act like a man and think like a lady.
"Today, I am here to have a casual conversation with you all," Harvey said. "Girls are the reason why we wake up in the morning. All of you men love to play sports and you are often driven to play sports. But it is the woman in your life that drives you to be the best that you can be."
Presented by the Steve and Marjorie Harvey Foundation program, the goal of the camp is to foster excellence in children.
The Friday evening workshop was a presentation on the realities of life. According to Harvey and his guests, life may look rich on the outside, but inside, life can be a little tricky.
"I'm here tonight with you to discuss certain issues with my frat brother Travis Trammell," Harvey said and then repeated himself. "The woman in your life is what drives you. It is the reason why you wake up wanting to make money and play sports. However, when things go wrong with your lady, a lot of bad things can happen."
Harvey discussed the high rate of sexually transmitted diseases among the African American population, especially men.
He discussed different diseases such as chlamydia, gonorrhea, syphilis, HIV/AIDS, genital herpes, HPV, hepatitis B and PID, also known as pelvic inflammatory disease.
"These diseases are dangerous because it can attack the immune system," Harvey informed them. "I ask you to use your head and not your weapon when it comes to having sex. My goal is to make you have an educated mind for yourself and protecting yourself is one viable option."
However, despite the protective barriers out there against diseases such as HIV/AIDS, Harvey said the best weapon a man can have against HIV/AIDS and other STDs is abstinence.
"This is one long word that means one thing, 'No thanks,'" Harvey continued. "And this is what the Steve Harvey Mentoring Program is all about. It is the science of getting the girl you want. Once you taste the fruit, it's the driving force of your world."
Harvey further stated that despite all the technological advances in society today, most men and young boys do not know how to approach a lady because they are too busy texting or playing video games.
"Ninety-Nine percent of you all do not know how to talk to your girl," he said. "We are living in the technical age and the basic thing that never changes is that boy meets girl."