Student who fled civil war, death awarded for bravery and courage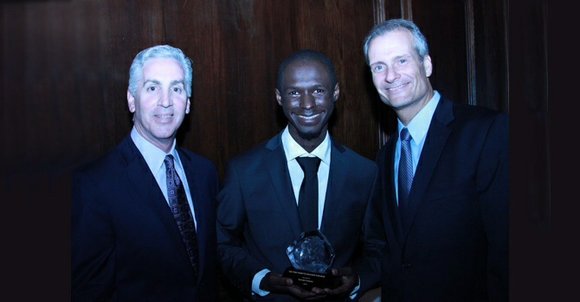 Special to The Dallas Examiner
As a child, school was secondary to survival for Ibrahim Kamara as he fled civil war and a sadistic regime of rebels who invaded Freetown, Sierra Leone, in West Africa. Shuttled from Guinea years earlier after the death of his father to Sierra Leone to live with his uncle, Ibrahim witnessed atrocities and ran from the war, only to return to the city four months later and face the loss of his sight.
"The brutal civil war that took place in Sierra Leone left unbearable pain during my childhood years," Kamara recalled. "Moving from one country to another – from Guinea to Sierra Leone, then back to Guinea and again to Sierra Leone – made it very difficult for me, as an 11-year-old boy, to pursue my dream of a better education."
Kamara, whose father died in 2002, came from a family of six children. He dropped out of school for a year to sell vegetables at the market to help make ends meet. His uncle, who lived in Sierra Leone, convinced Kamara's mother that he would have a better life and more opportunities to learn in that country. The youngster left Guinea and moved to Freetown – a place where he was supposed to pursue his education and where he would be safe from rebels who were on the march then in Sierra Leone.
As he worked through the loss of his father and fought to concentrate on his studies, Kamara dreamed about finishing high school and going to college. That dream was cut short, however, when rebels invaded Freetown, killing and maiming thousands. He and his uncle were on the run for four months and, when schools closed and the civil war continued, Kamara's uncle sent him back to Guinea, where the young boy would be safer with his mother.
Working through the challenge of potentially losing his sight, Kamara returned half-a-year later to his uncle's home in Freetown, where he eventually was able to enroll in classes after a two-year absence from school.
After doctors discovered that his vision problems stemmed from his eyes becoming infected with gunpowder; they treated him with an intense regimen of medication to correct the problem. Armed with determination and his restored vision, he then focused his life on learning, became prefect of his high school – Prince of Wales – in Freetown and president of his science club.
But Kamara's dream wasn't complete. After finishing school, he traveled to the United States and enrolled in Brookhaven College so that he can become a chemical engineer. Kamara now lives in Frisco and has to get up at 5 a.m. for school. He then returns home at 9 p.m. because he has full class days and a lengthy commute. But his long schedule does not deter him from pursuing his goal.
His uncle continues to play a key role, using his life savings to pay for Kamara to study in the U.S. because no universities in Sierra Leone offer a degree in the young man's chosen field.