Student who fled civil war, death awarded for bravery and courage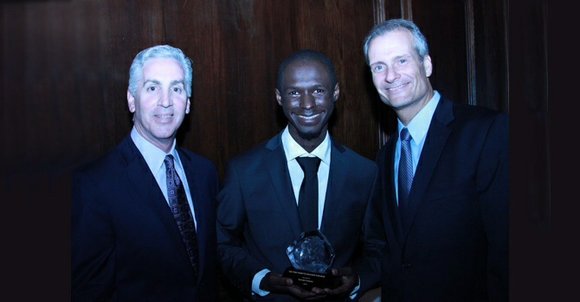 On June 25, Kamara was recognized as the 2014-2015 recipient of the Dallas County Community College District's Erin Tierney Kramp Encouragement Endowed Scholarship during a special dinner.
The award will help Kamara reach for his dreams with financial support provided by the scholarship, which covers full tuition and books for up to six semesters.
"The Erin Tierney Kramp program awards scholarships to students based on their courage and perseverance in the face of adversity," said Michael Brown, president of the Erin Tierney Kramp Foundation. "We see these qualities in Ibrahim, who bravely survived his own challenges and who plans to help others by going on to college and preparing for a career that will serve others. His story exemplifies what our past recipients have demonstrated repeatedly through Erin's legacy. When individuals face adversity, the struggles that they endure will either make them stronger or defeat them. Winning that battle requires courage and perseverance. Ibrahim Kamara has proven he possesses both traits, and he truly deserves this honor."
The courage and perseverance shown by Kamara in the face of adversity are traits exhibited by the person for whom the award is named. Erin Tierney Kramp, who fought breast cancer from 1994 to 1998, created a videotaped legacy on "life lessons" for her young daughter that would convey Kramp's views and advice to Peyton as the young girl grew up, following her mother's death. She touched many lives and inspired countless strangers when she co-authored Living with the End in Mind – with her husband and a family friend – and through appearances on programs like 20/20 and the Oprah Winfrey Show. Winfrey featured the Kramp story/segment as one of her "most memorable guests" during a May 2011 farewell show as the program reached its historic end. Kramp's legacy lives on through the foundation, the DCCCD scholarship program and the lives of all of its recipients.
Kamara is currently working on an associate's degree in engineering, with plans to transfer and eventually earn a doctorate in chemical engineering from the Massachusetts Institute of Technology. He wants to use that degree to invent new technology to help reduce the effects of global warming and also to conduct research and develop "quick and easier tests and treatments for cancer."
"Leaving behind everything I used to know in order to fight my way and achieve my dream is really tough," Kamara admitted. "It has been eight years since I last saw my mother and brothers. I am determined and highly motivated by the fact that my struggles and adversities are the driving force for my success. I'm doing it for them."
Four returning Erin Tierney Kramp Encouragement Scholarship Award recipients will again attend DCCCD colleges in the fall: Carrollton resident Ruth Clason, who is majoring in pre-medicine at Brookhaven College; Ana Immerso, a mathematics major at Brookhaven College who lives in Dallas; Sachse resident Elizabeth Shirey, who is majoring in special education at Eastfield College; and Dallas resident Kathy Tran, a Brookhaven College student who is majoring in visual communications.
Two additional students will receive one-time Erin Tierney Kramp Scholarship grants that they can use toward school expenses. They are Djangoran Famie of Dallas, who plans to attend Brookhaven College and major in finance; and Marcellino Estrello of Dallas, who plans to attend Brookhaven College and major in business.