Dems make 'A Texas Promise'
Mike McGee | 7/10/2014, 1:39 p.m.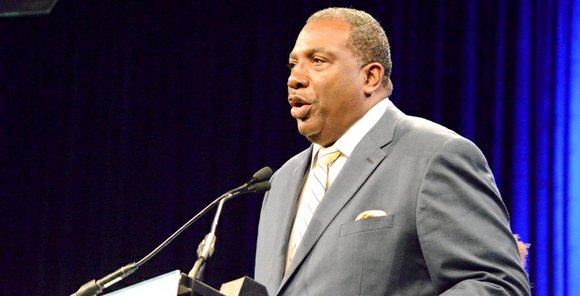 The Dallas Examiner
"We've got a lot of work to do," Sen. Royce West announced during the 23rd District caucus vote on June 27. "If we don't turn out the vote in the 23rd Senatorial District in Dallas County, we've got a lot to lose."
Speaking from the stage on the floor of Exhibit Hall E inside the Dallas Convention Center, West was one of many political figures to speak during the Texas Democratic State Convention.
The convention, which ran from June 26 to June 28, drew thousands of delegates from across the state to the downtown area. A donation of $20 or more reserved a spot for an attendee. With the theme of "A Texas Promise," the event brought in such notable politicos as gubernatorial candidate Wendy Davis, District Attorney Craig Watkins, U.S. Senate candidate David Alameel and U.S. Congresswoman Eddie Bernice Johnson.
During his address, West noted that the county would have to bring in 400,000 votes for Democrat victories at the state level. "So we are going to have to make certain that we do what we need to do in order to turn that vote out," he informed the crowd.
"Are you with me?" he asked. An enthusiastic cheer rose from the delegates in united affirmation.
West, who also served as the convention chairman, was followed at the podium by Rep. Helen Giddings. Representing Texas' District 109, she rallied further support for those running in upcoming elections. During her speech she cautioned the audience that while the district was "rich in votes," local Democrats were going to have to motivate more voters to go to the polls in November.
"Because if not, people will simply turn back the hand of time with us," Giddings warned. After the business of the caucus had concluded, the representative suggested that getting local voters involved in the political system was a matter of communication.
"I think people just have to start to talk about what they believe and I think when you start to talk about what you believe some of these radical ideas – some of these voters know they just can't identify with those radical ideas," Giddings mentioned.
Dallas delegate Tiffany Pratt, 30, agreed about the importance of getting voters of the county aboard. "If you don't get involved, you don't have a say-so in what's going on in the community." She also spoke on what she felt was a key issue for the Metroplex.
"I think the most important thing for me would be education because that's where it starts." Pratt added that she works with minors and believed that education needed to be more of a focus during the convention. "We need to take time to emphasize education here so that our children can grow up to be productive citizens in the community." For her part, Giddings felt that statewide financial resources were a bigger issue facing legislators in Austin.
"For this election coming up we're going to have to be very concerned about the budget. Texas has more money but there's going to be more of a reluctance to spend that money – and I'm not talking about spending for our wants; I'm talking about spending for our needs." The representative argued that Texas needed to provide more assistance for people "too young, too old or too sick" to take care of themselves. "There's reluctance on the part of a lot of people to step up to the plate and be that safety net," she said.