GoodJobs: Helping veterans get back to work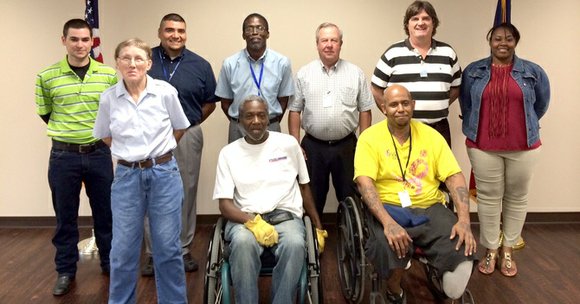 Special to The Dallas Examiner
Goodwill Industries of Fort Worth Inc. has committed to helping veterans find meaningful employment and gain financial stability following their return to the civilian workforce. Per the 2010 census, veterans represent 8.3 percent – 121,419 individuals – of the county's total population. One in 6 of these Tarrant County veterans have a service-related disability that affects their employability.
Goodwill provides job placement services including one-on-one career counseling and employer networking opportunities, job readiness skills training including resume writing, interviewing skills and job search techniques training, vocational assessments to help focus job search on the most suitable and in-demand occupation, needs assessments and appropriate referrals for mental health, housing and benefits assistance, and military-to-civilian transition mentoring services.
Through a grant from the Wal-Mart Foundation, Goodwill Fort Worth has also expanded Operation: GoodJobs, a program that helps veterans and their families connect with the training they need to get back to work and advance their careers. Operation: GoodJobs expects to serve more than 4,000 veterans and military family members nationwide, and between 300 and 500 in the Fort Worth area.
"At Goodwill, we strive to help all individuals with disabilities or other barriers to employment find meaningful employment and change lives through the power of work," said David Cox, president and CEO of Goodwill Industries of Fort Worth. "We are committed to not only employing veterans within our organization, but also preparing returning military members for employment in the competitive job market."
Eric Horn, a former medic in the United States Coast Guard, underwent training through the Operation: GoodJobs program. Following his service in the military, Horn received a master's degree and worked at a chiropractic clinic. However, he lost his license due to a substance abuse problem that started after his service left him with a 20 percent disability. He was unemployed for more than three years prior to coming to Goodwill, and faced numerous barriers to employment including depression, gaps in work history, and a dwindling emergency fund. In fact, he was two months away from eviction.
Through Operation: GoodJobs, Horn worked with his employment specialist on application, resume and interviewing skills, and learned to see and tell his life-story in a different manner, focusing on his strengths instead of dwelling on mistakes or missed opportunities. Horn also gained financial skills and he developed a budget to see what type of income he would need to sustain his current living-situation.
In March, Horn was hired at the Goodwill Fort Worth's Computer Works store. This part-time position gave him the financial resources he needed to stay in his apartment while still maintaining his personal health. Since working, his mental and physical health have improved, he has learned new skills, and has a greater understanding of computers. In addition, he is using his education and life-experience to mentor his co-workers.
Employers who are interested in hiring a veteran or military family member can call Jasmine Folan at 817-332-7866, ext. 2039. To inquire about the program or set up an intake appointment, veterans or family members can call Chandra Gullette at 817-459-2100 or email veterans@goodwillfw.org.