A century of excellence on and off the field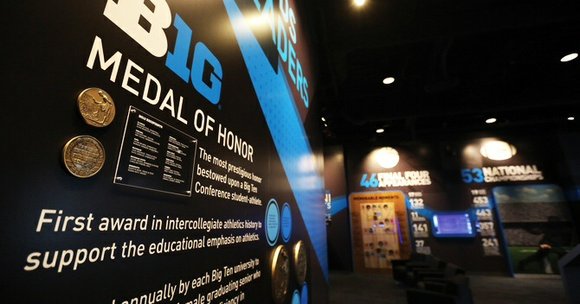 Family Features
The Big Ten, the nation's oldest collegiate conference, is commemorating the 100th anniversary of the prestigious Big Ten Medal of Honor by highlighting its 2014 class of honorees. Twenty-four student-athletes from 17 different sports received the honor, the first established award in intercollegiate athletics to demonstrate support for the educational emphasis placed on athletics.
Awarded to one male and one female student-athlete from each Big Ten graduating class, the Big Ten Medal of Honor pre-dates many of the biggest national awards that focus entirely on athletics, including the Heisman Trophy and Naismith Award.
"It really encompasses all the things that you bring to the table in terms of athletics and academics. It's always nice to be able to be remembered in a sense that's greater than numbers and stats," said 1999 Purdue recipient, Stephanie White, on receiving the award. "There are so many things that being a student-athlete taught me. It really transcends the sport and prepares you for the real world."
Since 1915, the Big Ten Medal of Honor has been awarded to more than 1,300 honorees. These individuals have translated their experiences as student-athletes into success in all walks of life and include: Jennifer Hsia, an assistant professor and otolaryngologist at University of Minnesota from Indiana, 2001; and Mike Hopkins, a flight engineer for the International Space Station from Illinois, 1992. Other honorees feature legendary sports figures such as Drew Brees, NFL quarterback who led the New Orleans Saints to their first championship in franchise history from Purdue, 2001; and Katie Smith, the all-time leading scorer in women's professional basketball from Ohio State, 1996.
This year's distinguished group also represents the best that the student-athlete model has to offer. They include Academic All-America and All-Big Ten honorees, individual award winners and NCAA and Big Ten team and individual champions. All 24 of the recipients have been named Academic All-Big Ten at least once in their career. This class of honorees is pursuing careers in diverse fields including pre-med, sociology, computer engineering, political science, finance and management, biosystems engineering and many others.
To learn more about the Big Ten Medal of Honor, visit http://www.bigten.org.
2014 Big Ten Medal of Honor Winners
Illinois:
Vanessa DiBernardo, Women's Soccer
Nathan Scheelhaase, Football
Indiana:
Meghan Lappan, Water Polo
Ryan LeBlanc, Wrestling
Iowa:
Marike Stribos, Field Hockey
James Morris, Football
Michigan:
Jillian Smith, Women's Cross Country and Track and Field
John Wojciechowski, Men's Swimming and Diving
Michigan State:
Kristen Henn, Field Hockey
Greg Wolfe, Men's Ice Hockey
Minnesota:
Sara Moulton, Softball
Derek Toomey, Men's Swimming and Diving
Nebraska:
Emily Wong, Women's Gymnastics
Seth Wiedel, Men's Track and Field
Northwestern:
Marisa Bast, Softball
Raleigh Smith, Men's Tennis
Ohio State:
Allison Elber, Women's Rowing
Aaron Craft, Men's Basketball
Penn State:
Emily Giannotti, Women's Track and Field
Adrian Evans, Men's Gymnastics
Purdue:
Casey Matthews, Women's Swimming and Diving
Matt Friede, Men's Swimming and Diving
Wisconsin:
Mary Massei, Softball
Reed Connor, Men's Track and Field