Building the PQC village
Paul Quinn's student living center, first building since 1990
Chelsea Jones | 7/21/2014, 12:21 p.m. | Updated on 7/21/2014, 6:04 p.m.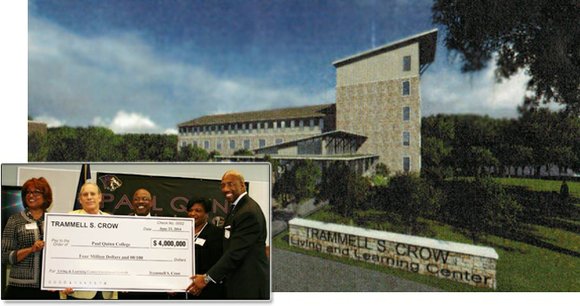 The Dallas Examiner
Paul Quinn College is the only Historically Black College and University in Dallas/Fort Worth. Over the last several years, the college has evolved academically and seen various historic changes – from its logo to its We Over Me Farm. Yet, if asked about life on the campus, most students living on campus will probably complain that the dorms are old.
Approximately 80 percent of the student body currently resides on campus. Lucy Hughes Residence Hall, the college's only dorm, is a 24-year-old four-story, 233-bed building – much of which has been remodeled. But the college hasn't built a new building since it relocated from Waco to Dallas in 1990.
But now, that is about to change. Dallas philanthropist and Paul Quinn supporter, Trammell S. Crow, recently gave the school $4.4 million, the largest financial gift in the school's 142-year history, to construct a new building. The hope in building the new dorm is to have more students living on campus.
The Trammell S. Crow Living and Learning Center will provide an additional 180 beds and will serve as a bridge between students' academic and residential experiences. It will house a classroom and community meeting space, and be environmentally friendly. The dorm will overlook the school's farm and provide views of the city's skyline.
Crow and Paul Quinn College President Michael Sorrell presented the gift before students, staff and alumni during a ceremony on campus on June 23. Of the sum, $3.4 million will be used to construct the dorm. The remaining $1 million will go toward scholarships to help boost student enrollment.
Sorrell told audience members that Paul Quinn would never be the same due to Crow's generosity. He noted how nearly five years ago, Crow began investing in the school by helping finance the campus' farm, which has yielded approximately 35,000 pounds of organic produce since its inception in March 2010.
He also mentioned that Crow had paid for the demolition of 15 abandoned buildings and the artwork decorating the library. Afterward, Crow commented that the school was vital to the future of the Metroplex, stating that Paul Quinn would create more African American leaders per capita than all the other universities in town.
In addition, he stressed the importance of caring for the environment and commended the college for maintaining its farm and preserving its forested areas and water.
He later urged everyone to attend Earth Day Texas next April, which was originally founded as Earth Day Dallas by Crow in 2011.
Rep. Toni Rose, the school's first alum to serve in the Texas Legislature, Mayor Pro Tem Tennell Atkins, and Bishop Vashti Murphy McKenzie, chairwoman of the school's board of trustees, were in attendance and praised Crow for his contribution.
"There's an African proverb that says, 'It takes a whole village to raise a child.' It does take an entire village to be able to surround our students, giving them the experiences they need to be positive and productive adults. You are partner with us, not only a player, but I believe you are an impact player," McKenzie told Crow.
Construction will start next year, and the building is expected to be completed by the end of 2016 or early 2017.