Expungement process requires patience, money to cut through bureaucracy, red tape
Mike McGee | 7/22/2014, 2:13 p.m.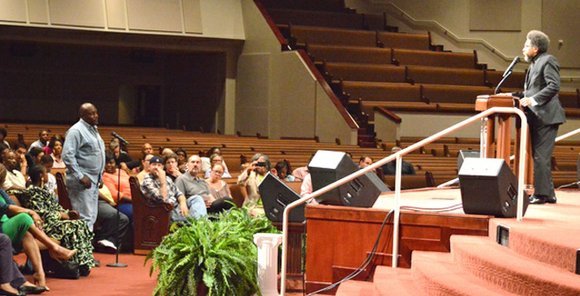 The Dallas Examiner
Reggie Ruffin, the local man arrested in 2009 and 2010 for violent felonies but released after being found not guilty in each case, learned that the lawsuit he brought against the city was thrown out of court June 20 by the U. S. Court of Appeals, Fifth Circuit Court, Texas Northern District. Ruffin cited malicious prosecution and violation of his civil rights when he filed his case in January.
"They told me they threw it out because they called it a frivolous lawsuit," he revealed.
He filed a motion to vacate dismissal July 18.
"I'm just waiting to hear back from the federal court as to what they're going to do."
One aspect of Ruffin's case involves the expungement of his criminal records. The expungement process is a lawsuit in which first-time offenders petition the court to have their criminal records sealed. These cases go through a civil court rather than a criminal court. And only judge can expunge the records. Should the expungement be granted then the records of the case disappear from the public eye.
Several local attorneys have pointed out that expunction can be a complicated and costly process. The section of the Texas Code of Criminal Procedure online that explains the guidelines for expungement, the process to get it, and the exceptions that limit it is 17 pages long.
"Most attorneys charge between $1500-$2000 to expunge a record," said Krista Martin with the Chad West PLLC firm talked about the financial aspect of expungement in the DFW area.
Martin also mentioned that there are court costs and a filing fee. In Dallas County the fee is $257, payable to the Dallas County District Clerk. Anyone can file for an expunction without an attorney. Most attorneys will recommend against that due to the different steps and technicalities involved in the process, however.
"What's critical about these expunctions that a lot of people don't know is that you only get one shot at it," said Peter Schulte of Schulte & Apgar PLLC.
He gave an example of a potential pitfall: If a man was charged with family violence today, and the charge was dismissed tomorrow due to lack of evidence, that person may try to get an expunction only to find through the process that he would not be eligible until the statute of limitations had run out on the original charge. In Texas that is two years. During that time new charges could be added or the original charge refiled.
Should that same man try for expunction after the two years the request would be denied, Schulte said. "It's denied because you've already litigated the issue," he claimed. "Because once you do it, there's no going back."
He stated that there are a lot more people eligible for the expunction than actually go through the process. Ruffin agreed.
"A lot of people don't know you can get an expunction after you've been acquitted, or charges have dropped against you," he said. "But [the court] neglects to let you know that."