Expungement process requires patience, money to cut through bureaucracy, red tape
Mike McGee | 7/22/2014, 2:13 p.m.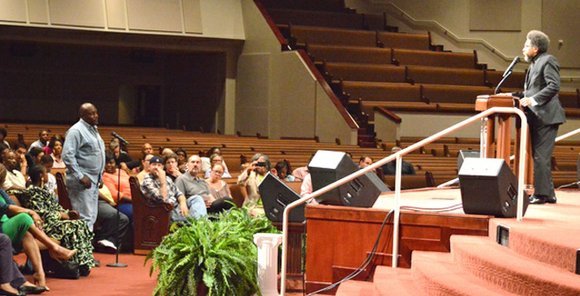 He also expressed that the cost of expungement prevents people from realistically considering it.
"I feel if you have been acquitted of all this, why can't the public defender, or whoever your attorney is, just do the expunction for you," he wondered. "For free, so you won't have to be faced with doing this?"
There is no financial assistance for expunction since it is a civil matter; that means there are no court-appointed lawyers available even though such council may have represented the individuals during their original case. Martin described it as "a Catch-22."
The time that it takes for an expunction to be granted can vary as much as the cost.
"Once a person is deemed eligible to file, and the petition is actually filed, the process is generally relatively quick – it typically takes a court 1-3 months to approve the request," Martin said.
However, the process from start to finish takes about 6 months, from the time individual finds out about their eligibility until the final action of the expungement. Gregg Lundberg with the Law Offices of Gregg D. Lundberg PLLC illustrated further.
"The order for expungement is usually quite a bit earlier than that, but then the agencies have a certain period of time to respond by returning the materials or destroying the materials," he said. He added that when an expungement is granted in Dallas the physical records are destroyed. "They're returned to the clerk of the court and disposed of."
Just as important as when a request for expungement is filed or the lengths of time that a case might take are the various conditions under which a record can be expunged. One expunction filing does not "fit all."
Felonies and misdemeanors both can be expunged, said Lundford, "… But not all felonies or misdemeanors can be expunged. It depends upon how the case was resolved."
There are certain specific factors under which expungement may be granted or denied. Elements in such cases include whether a defendant was acquitted, a case was dropped, or a situation involved a minor with an alcohol offense. There is also a separate rule for Class C tickets, he added.
Lundberg also mentioned that if the application for petition of expungement is filed within 30 days of an acquittal, the filing fee is waived by the state of Texas.
However, Ruffin said that again brings up the question of clarity. An individual who was acquitted may not know about the expunction option or the timeframe for having a fee waived. Filing is almost always a matter of both time and money, he admitted.
"It's a lot of bureaucracy and red tape you have to jump through," Ruffin said.