Remembering Maya Angelou
Maya Angelou opened her life to open our eyes
JAZELLE HUNT | 6/6/2014, 8:46 p.m. | Updated on 6/6/2014, 9:35 p.m.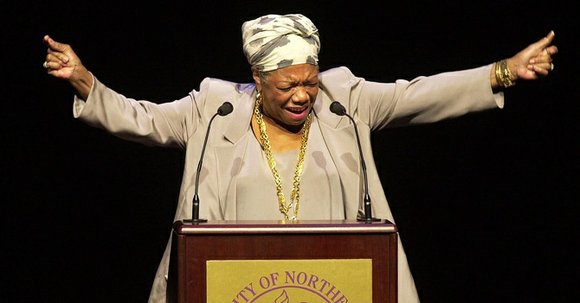 WASHINGTON (NNPA) – The day before she died, Maya Angelou telephoned Ebony magazine headquarters in Chicago to tell new Editor-in-Chief Mitzi Miller that she was proud of her. They barely knew each other. Miller knew Angelou mostly through her writings.
"She spoke to me for 10 minutes, so generously and complimentary toward the work I had done in Jet. She said that she had just called to tell me how much she had been enjoying Jet…and she was proud of how much I had done," Miller recalled. "I'm stuttering, trying to keep up. It was a brush with greatness. I feel so blessed that, for whatever reason, she decided to call me. I feel incredibly grateful."
It was a final gesture that exemplified Angelou's sincerity and openness. As inimitable as she was, she had a way of making everyone feel they were her best friend.
"This is someone that I have followed my entire life, read her books, looked up to … and she was on the phone with me," Miller continued. "Having a really everyday conversation, kind of how you'd expect your aunt to call you, like 'girl, I'm so proud of you.' And the next day she had passed."
Angelou was born in St. Louis, Missouri, as Marguerite Johnson, but assumed the name Maya Angelou and many other titles over her 86 years: writer, activist, entertainer, San Francisco's first Black female streetcar conductor, professor, doctor, linguist, winner of three Grammys, the NAACP Springarn Medal, and the Presidential Medal of Freedom, to name just a few.
But in her own words, she was simply "a teacher who writes." And many remember her as that – and so much more.
"There are two things she taught me that I try to remember," said Susan Taylor, former editor of Essence magazine. "One moment we were chatting and I was very stressed about work. And she told me, time spent away from your desk renewing yourself is as important as time spent hunkered over your work. And that we should never beat up ourselves or feel guilty … she said to me, as I'm sure she's said to many others, we have to do as well as we know how to do, until we know better. Then when we know better, we can do better."
Even through her status as an international icon, she constantly took others under her wing, inviting them to her home, feeding, regaling and encouraging them to live well and pursue their goals. She loved to celebrate and entertain, from warm Thanksgivings with friends and mentees who became her chosen family, to lavish garden parties and ceremonies held in her honor.
CNN contributor and Democratic strategist Donna Brazile recounts reading her work as a girl, and ending up dining with her as an adult.
"Once, my friend Minyon Moore hosted a luncheon in honor of Betty Shabazz, Cicely Tyson, Coretta Scott King and Maya Angelou. It was a moment for us, the up-and-coming, to meet our heroes, to sit at their feet and learn from them," she said. "Before we could break bread (cornbread), Maya had everyone laughing. She made a place for so many folks in her life, in her kitchen or on her stage."