Remembering Maya Angelou
Maya Angelou opened her life to open our eyes
JAZELLE HUNT | 6/6/2014, 8:46 p.m. | Updated on 6/6/2014, 9:35 p.m.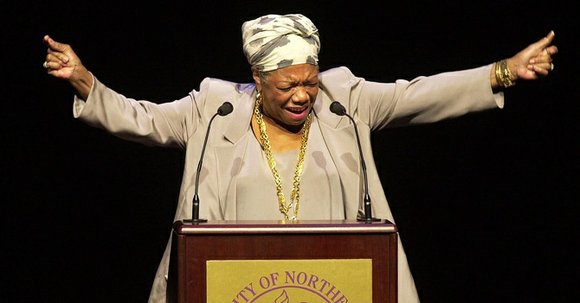 Ingrid Saunders Jones, another mentee and chair of the National Council of Negro Women, remembers Angelou's portrait-unveiling ceremony at the Smithsonian National Portrait Gallery. It was the day after Angelou's 86th birthday, and the last time Jones, former chair of the Coca-Cola Foundation, would see her.
"What I saw that day was complete delight from her that this was happening, and that she was surrounded by people she loved and people who loved her. It was just a love-fest," Jones said. "She gathered all her strength – she was so strong that day – as she answered questions about herself. And she sang to us. It was just a day never to be forgotten."
In 2009, National Urban League President and CEO Marc Morial went to Angelou's home to request her participation in the league's centennial celebration.
"What followed was hours of conversation sitting at her kitchen table as she told stories, gave life lessons, and shared poignant perspectives on art, culture and humankind," he shared. "With equal parts majesty and humility, she held court – and I listened intently, absorbing every word and meaning that she had to impart. It was an incredibly powerful experience, and I will always be grateful."
The visit resulted in her poem titled, We Hear You.
Through her works, generations will continue to sit at her kitchen table by proxy. Her most famous works, such as Still I Rise, Phenomenal Woman and I Know Why the Caged Bird Sings, were imbued with her wisdom and power. Her words could lift a reader out of a personal nadir, fortify, and quietly cheer him or her toward the best version of themselves.
Angelou backed her eloquence with gritty action. An active participant of the Civil Rights Movement – she served as northern coordinator for the Southern Christian Leadership Conference – her time was dedicated to human rights and dignified life for all.
"As much as she was an international figure, she was still very much as down-to-earth as soil," said University of Louisville Business Professor Nat Irvin II, a longtime friend who taught with her at Wake Forest University and attended the same church. "She was majorly dedicated to the common humanity of all people. That's where her heart rested. That's what her life was about."
Rep. John Lewis, D-Ga., called her a "soothsayer," adding that her talents and activism "set this nation on a path toward freedom." He continued, "America is a better place, and we are a better people because Dr. Maya Angelou lived."
From serving in a leadership role for the SCLC, to helping Malcolm X establish the Organization of African American Unity just before his assassination, to lending her voice to push for gay rights, Angelou was a consistent crusader for fairness.
"Over the course of a career spanning some of the most tumultuous decades of the last century, she taught us how to rise above 'a past that's rooted in pain,'" said Attorney General Eric Holder, whose firstborn was named after Angelou. "She gave voice to a people too often shut out of America's public discourse."