Southern Dallas highway in danger of demolition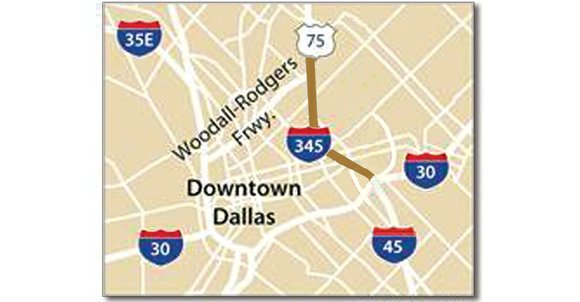 The Dallas Examiner
Drivers who use Interstate 345 to travel from Southern Dallas to Northern Downtown can relax – at least for now. The Texas Department of Transportation has decided to repair the 1.4-mile-long freeway, that connects Interstate 45 and Interstate 75, until officials determine whether to replace or demolish it.
The 43-year-old roadway is in poor condition, and a major repair project is needed for the safety of passengers, according to Tony Hartzel, a spokesperson for the TxDOT. Approximately 200,000 vehicles travel the freeway each day.
Just months ago, I-345 was the topic of a heated dispute. Some wanted the roadway torn down; others wanted it restored. Those in favor of demolition argued the freeway divided the Deep Ellum neighborhood and disconnected it from other parts of Dallas.
However, Dallas City Councilwoman Vonciel Jones Hill expressed vehement disapproval to bulldozing I-345 if the Trinity Parkway wasn't built. She stated that without the freeway or the parkway, her constituents in South Dallas would have no way to get to jobs north of Downtown.
The proposed parkway is envisioned as a 9-mile traffic relief route around the south and west sides of Dallas' central business district. The toll road would run from State Highway 183/Interstate 35E to U.S. Highway 175/I-45.
Sen. Royce West released a statement also voicing his opposition to I-345's removal.
"While I am a proponent of economic development within the Senate district I represent and throughout the state of Texas, I would not see the greater benefit of crucial transportation infrastructure demolished to return to a mode that the needs of Dallas motorists have outgrown," West stated.
He further indicated that he had economic development suggestions for other parts of Dallas, which he explained were consistent with the city's current GrowSouth initiative.
Mayor Mike Rawlings seemed to also lean toward keeping I-345 intact, although he clarified that he was undecided about what should be the roadway's ultimate fate.
He mentioned that the demolition process would be costly – approximately $1.9 billion – and time consuming. He noted that similar projects have taken up to 10 years to complete.
Hartzel explained that TxDOT is currently conducting studies to determine how to repair I-345. Repair could include adding braces to columns or adding more columns, though he indicated no formal recommendations have been made yet.
The repair project could total roughly $100 million and will take about a year to complete. Construction is expected to begin next summer.
Hartzel commented that in the meantime, TxDOT is planning to start a long-term study that will assess the feasibility of replacing or removing the freeway. The study could take anywhere from three to 10 years.
Nevertheless, Hartzel conveyed that TxDOT has pondered the possible consequences to obliterating I-345 and not putting something in its place. Removing the freeway could mean having to reroute traffic onto I-45, Interstate 30, Central Expressway and Woodall Rodgers Freeway. This would result in approximately 9,000 more vehicles on these roadways during rush hour, which Hartzel admits would be a lot of traffic for one hour. He said that it could cost between $2 to $4 billion to direct overflow traffic into a tunnel.
He noted that TxDOT is aware of the many concerns regarding the future of I-345 and added that the agency is willing to discuss the issue with all stakeholders.
On June 5, the highway will be part of a series of conversations about the city's public spaces during CONFAB vol. 2 held by the Dallas Parks Foundation at 7 p.m. at the Dallas Performance Hall.