Uniting women leaders for world peace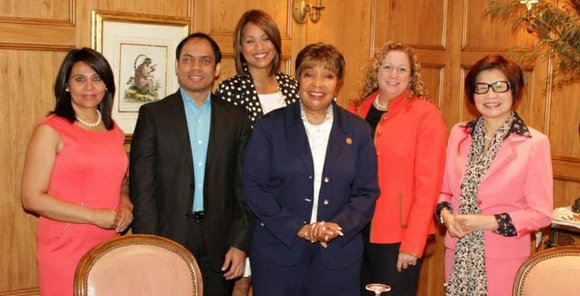 The Dallas Examiner
Since terrorists attacked the United States of America on Sept. 11, 2001, the nation has been torn by war, blood, gun violence, death and an economic recession.
Each year, Congresswoman Eddie Bernice Johnson, U.S. House of Representatives of District 30, brings advocates of world peace together to showcase the efforts, strategies and resolutions brought about by women from around the globe.
"The thoughts and actions of women are crucial to bringing about world peace," Johnson explained in a message to the press. "The world needs to listen to women whose voices are often less acerbic than those of male policymakers."
This year, her 14th annual "A World of Women for World Peace" conference was held at the Crescent Club in Dallas in May. The event was part of the World Summit of Nobel Peace Laureates, started in 2006 by Vadim Zagladin and the Gorbachev Foundation. It is chaired by former Soviet President Mikhail Gorbachev of Moscow, Russia, and co-chaired by the former mayor of Rome, Italy, Walter Veltroni.
Organized by the Permanent Secretariat of The World Summit of Nobel Peace Laureates, the woman's summit featured a video conference with Princess Ameerah Al-Taweel of Saudi Arabia, who is considered a 21st century business woman, philanthropist and a leader of her generation.
The conference also featured international and American peace activists across the globe.
Other panelists included Abigail Disney, an American filmmaker and philanthropist, and granddaughter of Roy Disney, co-founder of the Walt Disney Company.
Abigail is known for her internationally acclaimed documentary called Women, War & Peace.
Additional presenters featured Dr. Dilshad Dayani of World Women Global Council, Rais Bhuiyan of World Without Hate and Judy Chen Hsieh of Hwazan World Media.
The forum was moderated by local ABC affiliate news anchor/reporter Shon Gables of WFAA.
The presentation began with Johnson addressing more than 200 peace activists throughout the Metroplex and the world.
Johnson said her goal was to bring greater awareness to victims who suffer from war and conflict, and also to help women who promote peace on earth.
"I knew that there was something I had to do to prevent the loss of human life," Johnson said. "I turned to women, who are natural peacemakers. I know that women have a unique ability to connect to both sides of any conflicts, because they are the mothers, they are the wives, and they are the daughters of the soldiers who are losing their lives in battle. Women can have a powerful influence on the peacemaking process when they are brought to the table."
Al-Taweel was the first one to speak through video teleconference. She is also founder and CEO of Time Entertainment, a holding company whose goal is to transform the media and entertainment industry. Al-Taweel's company also provides employment opportunities for kids in the Arab nation.
"I thank all of you for the invite," she told the audience. "I wish I was there with you in person. In the Gulf country, where I am from, there are a lot of taboos and outlaws. Women in my country, which is the Gulf region of Saudi Arabia, even in the Middle East, have a lot of initiatives we are working on.