New NAACP president says protest in his DNA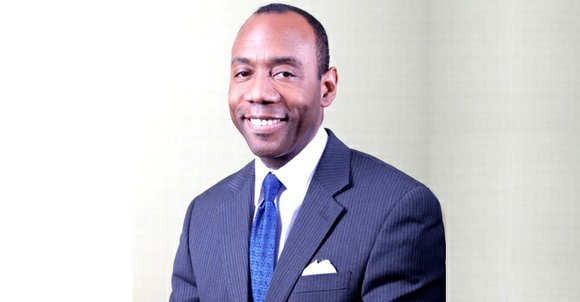 NNPA
WASHINGTON – When Rev. Frederick D. Haynes III of Dallas, Texas, learned that the NAACP Board of Directors had chosen Cornell William Brooks over him, Attorney Barbara R. Arnwine and several other better known candidates to succeed outgoing president Benjamin Todd Jealous, his response was "Who?"
And he wasn't the only one responding that way.
In an interview from Florida, where trustees had just made their selection, a board member who asked not to be identified by name said, "We turned the whole nation into a collection of owls," he said. "When they learned of our decision, everyone in the country was saying, 'Who? Who? Who?'"
Though he is not among the who's who of national civil rights advocates, Brooks feels his entire life has prepared him to become president and CEO of the NAACP. He graduated from Jackson State University in Mississippi with honors, earned a Master of Divinity degree with a concentration in systematic theology from Boston University School of Theology – where Dr. Martin Luther King earned his Ph.D. in the same area of study – and graduated from Yale Law School, serving as a senior editor of the Yale Law Journal and a member of the Yale Law and Policy Review.
After serving as a law clerk for Judge Sam J. Irvin III on the U.S. Court of Appeals for the Fourth Circuit, Brooks' first job was as an attorney at the Lawyers' Committee for Civil Rights under Law headed by Barbara Arnwine. He later worked as an attorney for the Justice Department, a senior attorney for the Federal Communications Commission and was executive director of the Fair Housing Council of Greater Washington, D.C.
His most recent job was as president of the New Jersey Institute for Social Justice, a Newark-based organization founded in 1999 by the Alan V. and Amy Lowenstein Foundation. According to its website, the institute seeks to expand economic opportunity for people of color and low-income residents; promotes holding local, state and regional government accountable for fulfilling the needs of urban residents, and protects the civil rights of the disadvantaged.
"When you look at the arc of my career, it has not been singular or linear in focus, but really touched on many of the challenges facing the country – whether it be in business, the criminal justice system, the juvenile justice system, the housing market – so I think I bring a multi-dimensional, multi-disciplined, multi-faceted focus on work," Brooks said. "That does not make me unique, but perhaps distinctive."
Brooks will need that and more to be successful as the 18th president of the NAACP.
The 5-page job description developed by The Hollins Group, the NAACP-contracted search firm based in Chicago, noted among the specific job responsibilities: "Work closely with the Chairman and the Board and be responsible for developing the organization's U.S. private sector fundraising plan and growing its annual income and membership by 20%. This also will include expanding both staff and operations with an emphasis on building a larger base of private sector support and establishing an endowment."