'I'm still standing': Rachel Jeantel, a year after Trayvon Martin trial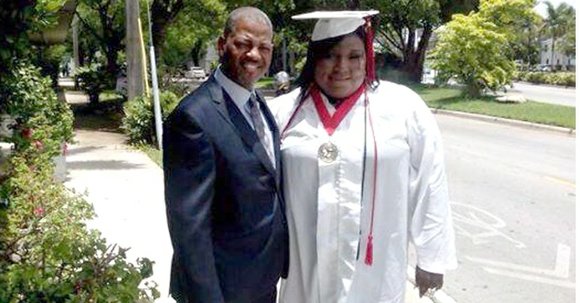 NNPA
WASHINGTON – As Rachel Jeantel inched toward a high school diploma, she tried to keep in mind that she had a promise to keep. Her slain friend, Trayvon Martin, would have wanted her to finish school, and she had promised his parents and other supporters that she would.
Now, she has kept that promise.
The world met Jeantel last year, when it was disclosed that she was the last person to speak to Martin before he was killed by George Zimmerman. Over two days of testifying as a key witness in the Zimmerman trial – in which she was questioned for six hours – a storm of opinions, analyses and judgments were made about her – some on target, some not.
At the time, she was just a teenager thrown into the spotlight in the midst of a personal and national tragedy.
It's a chapter of her life she doesn't like to talk about, mostly referring to it in solemn tones as "the situation." Bringing it up immediately deflates her cheery, laugh-filled conversation.
"I'm grateful for Trayvon and every day when I work hard or have the smack-down on me, I just say if he was here he would say 'keep going,'" Jeantel said in an interview.
"The situation was a learning experience for me, and for everyone. As everyone was watching the trial, we were all learning things about the United States. But I'm still standing. You don't need to be afraid of me, and you don't need to feel bad about the situation. Justice will still be served."
Last year, Jeantel wanted nothing more than to be left alone. She was grieving and feeling guilty, choosing not to attend Martin's funeral.
"I was running from Sybrina [Fulton]," she said, referring to Martin's mother. "I wasn't ready to face her. I didn't want to talk about it."
She was traveling constantly for questioning as part of FBI, law enforcement and legal investigations. She was missing a lot of school. Only her closest friends knew that she had been on the phone with Martin when Zimmerman first spotted him.
"Nobody knew where I was. I'd lie about where I'd been every time somebody brought up Trayvon, and they would always bring it up in school [that he had been on the phone]. I'd deny saying it was me," Jeantel said. "All the traveling and talking to the FBI was too much on me, and I was doing it by myself. I still wanted my normal life."
That normalcy never quite returned. She still gets recognized at Wal-Mart, where people ask her why she shops there "now that [she's] a celebrity." They want to take pictures. Sometimes they're too nervous to approach her, and send their children to ask instead.
She shrugs off the attention, often responding to strangers that she still needs clothes and make-up just as they do.
"For now, I just deal with it," she said.
Another adjustment has been the tidal wave of Black men and women who emerged to teach, steer and coach Jeantel, now 20, as she transitions to college and womanhood. It began with her attorney, Roderick Vereen, who ushered Jeantel through the media spotlight after Zimmerman was acquitted of second-degree murder and manslaughter.