'I'm still standing': Rachel Jeantel, a year after Trayvon Martin trial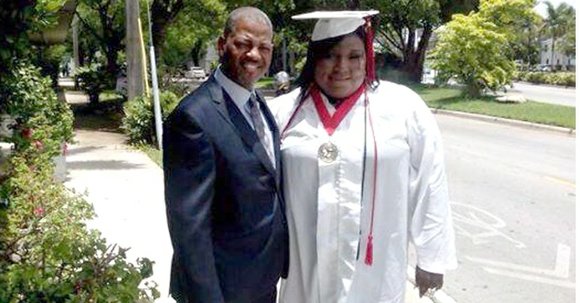 He remains "like a father figure." Vereen's assistant, Rose Reeder, manages Jeantel's scheduling. His friend, Karen Andre, also a lawyer, stepped up as a mentor. Miami-Dade School Board member Dorothy Bendross-Mindingall arranged for her to transfer to the Academy for Community Education, a small, attentive alternative high school where Principal Deborah Carter took Jeantel under her wing.
During an interview on his radio show, Tom Joyner offered Jeantel a full scholarship to any Black college she chooses, and also hired a team of tutors to help improve her math and reading proficiency to college-ready levels.
"I was not used to that. It was a lot of people. I could never sneak around, I couldn't go no place," she said, laughing and sighing with appreciative resignation.
Once, one of her tutors came to pick her up at home and she invited him in to say hello to her parents, who speak limited English. He greeted them in fluent Creole, much to Jeantel's chagrin. For the self-proclaimed "spoiled-brat daddy's girl" who was "used to having her way," this new team of no-nonsense adults – who could report directly to her parents without her translation – was not exactly welcome.
It's something they all laugh about now. Though her new normal is a challenge rooted in tragedy, it's bearing good fruit, too. Jeantel explains, for example, that her friends often draw inspiration from her life. One in particular, at her new school, confided that she was considering dropping out.
"I showed her my schedule of all my tutoring, and my calendar, and I told her she better not quit," she said. "And she graduated and got her diploma with me. I've been through my worst. Everybody's been through their worst times, but mine was in the public eye. If I could deal with millions of insults, you can deal with two."
She's even worked her way back toward Sybrina Fulton and Tracy Martin, who she now calls her "number one supporters." Fulton was one of the people cheering her across the stage as she accepted her diploma.
"I love them because one thing about my village is they keep it real. I'm telling you, I was bad," Jeantel said. "I would see them every day and sometimes I'd get five different lectures a day. I'm down to two, so I'm working on it."
In fact, Jeantel is working on a number of things. With her tutors she's focused on vocabulary, grammar and mathematic skills. With her mentors, she's focused on well-being and gaining the necessary life skills to become independent. This summer she hopes to get a job. When her academic skills are up to par, she'll enroll in college. In the far future, she sees a college degree and a creative career, ideally in fashion design.
"I want to thank everyone who was standing behind me during and after the trial – every single person who ever supported me. Trayvon, his family, my family, even President Obama," Jeantel said. "I'm still standing, still smiling. [Zimmerman's acquittal] was a disappointing day. But justice will be served, and I will get my degree, and we will continue."