Jackson urges technology giants to recruit more minorities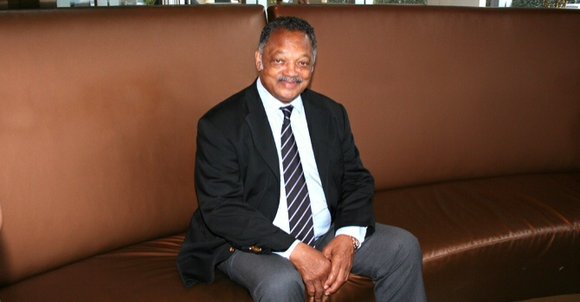 The Dallas Examiner
Rev. Jesse Jackson recently pushed his way through Silicon Valley to bring attention to the lack of African Americans and Latinos working in major tech companies, especially at the executive level. So far, he has targeted the big players: Hewlett Packard, Google, Apple, eBay, Facebook and Twitter.
Last week, he met with AT&T executives at their local headquarters.
"We're consuming their products. We want to share in the growth. We have a right to be a part of it," Jackson said, mentioning that it was imperative for minorities to have access to the tech industry's future-oriented jobs.
In a letter Jackson issued on behalf of the Rainbow PUSH Coalition, his non-profit organization that strives to level economic and educational playing fields and promote world justice and peace, he chastised tech companies for their predominately White, male staffs.
"Technology is supposed to be about inclusion, but sadly, patterns of exclusion remain the order of the day," Jackson wrote.
"When it comes to African Americans on board – zero. C-suites – zero. Minority firms in IPO's and financial transactions, advertising and professional services – zero. Those zeros are contrary to the enlightened values exposed by the industry," he insisted.
The civil rights leader and political activist launched his diversity campaign in mid-March. His first stop was at Hewlett Packard's shareholders meeting in Santa Clara, California.
Meg Whitman, Hewlett Packard's chief executive, noted that the company had three female top executives – more than its contemporaries – and described what she said was a long record of Hewlett Packard's involvement in civil rights activism.
However, Jackson commented that the company did not have any African American board members. Whitman stated that she would meet with him personally to discuss the topic further.
Jackson also visited Google's shareholders meeting in Mountain View, California, eBay's shareholders meeting in San Jose, California, and Facebook's shareholders meeting in Redwood City, California. At the Facebook meeting, he told Chairman/CEO Mark Zuckerberg, CFO David Ebersman and COO Sheryl Sandberg that the social networking company must establish a direct link that African Americans and Latinos can "lean in" and move up the corporate ladder.
He suggested building a pipeline from East Palo Alto to Stanford University. East Palo Alto is an impoverished community with many minorities living there and borders the affluent town where Stanford is located.
Sandberg – herself one of the few women in senior positions at large tech companies – welcomed Jackson's sentiments and discussed in-depth the new programs that Facebook has launched to recruit minorities and women.
Jackson said a major challenge of his diversity campaign has been the refusal of tech companies to release their Equal Employment Opportunity Commission records. U.S. companies with more than 100 employees are required to submit an annual report to the government, called the EEO-1, which categorizes their workers by gender and race. Companies are not required to publicize the data, but may do so if they choose.
Sandberg would not grant Jackson's request for Facebook to release its EEOC records. She indicated that the company would eventually disclose the information, but noted that it was important to review the data internally first.