The Journey - Pain, Fear & Faith
Anita Jarrell-Robertson's musical tribute
Mike McGee | 6/12/2014, 8:37 p.m.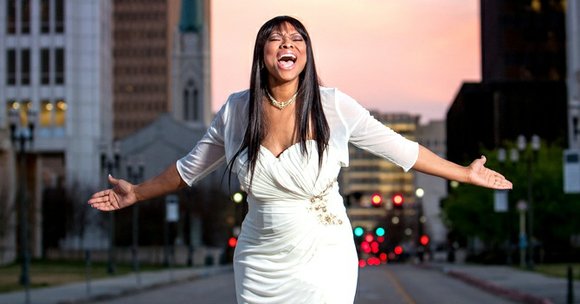 "I invite them to do the same. Sometimes they do it, sometimes they don't. And I don't judge them if they don't. I just continue loving them – and I'll sing the song again if they want to hear it," she decreed, laughing once again.
In terms of her vocal style, in-person, Jarrell-Robertson is a capable singer when tackling either an a capella song or a heavily instrumented composition accompanied by a trio of background singers. She is also proficient at singing some of her gospel in Spanish.
In the most positive way, she made everything personal during the LCC concert. Throughout the show, Jarrell-Robertson would ask those who believed to stand, or perhaps raise their arms, if they felt moved to do so. Two large video screens on the sides of the performance stage featured the lyrics to her songs so that folks could find something meaningful to them in her songs, or even sing along with her.
At one point, Jarrell-Robertson called a young boy up to the stage, and then asked for a veteran from the audience to step forward as well. She introduced them to each other, had them shake hands, and informed the child of how important the older man's duty was to the younger child's future.
"I pray that all of us will teach our children how to do that when they're with us – to safely walk up to a serviceman or servicewoman, if you see that hat on their head, and shake their hand, look them in the eye, smile at them, and thank them for their service," she urged through audience applause. "You don't know what they had to go through."
The LCC audience was small due to vacationers taking advantage of the three-day weekend, members of the audience indicated. However, as a professional, Jarrell-Robertson played this to her advantage. Rather than simply talking to the crowd, as often becomes the case with larger audiences, Jarrell-Robertson took the time to converse with the crowd. Repeatedly, she spoke with them about her faith journey, and reveled in their feedback.
"I had to rely upon Him more than any of us probably ever would choose to," she articulated to the crowd before a break in the show. "On Christ, the solid rock, I stand."
On April 26, Jessica turned 8 years old and remains cancer free.