Obama's Promise Zones: Only one is majority-Black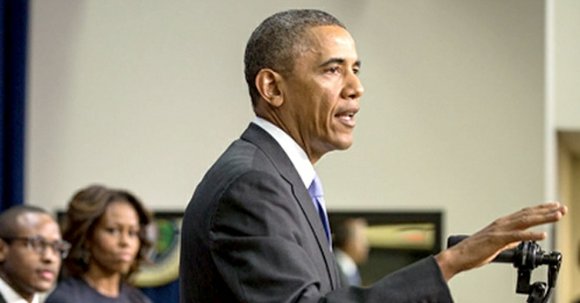 NNPA
WASHINGTON – Despite the disproportionate impact of poverty found in African American communities, only one of President Barack Obama's "Promise Zones," is majority-Black, according to a new report.
A recent report by the Center for American Progress, a nonpartisan research and educational institute, offered recommendations on the role the federal government should play in breaking barriers to social and economic mobility.
Earlier this year, Obama launched his Promise Zones initiative, a program that will fast-track federal aid to some of the nation's poorest communities.
During his speech on Promise Zones in January, Obama said, "A child's course in life should be determined not by the ZIP code she's born in, but by the strength of her work ethic and the scope of her dreams."
The Center for American Progress report highlighted the implicit and explicit role that the federal government played in stifling the scope of those dreams for thousands of Black families.
"These practices included redlining, beginning in the 1930s – when the federal government allowed the Home Owner's Loan Corporation and banks to exclude African American communities from receiving home loans," the report stated. "Following World War II, in many metropolitan regions, highways were rammed through many low-income, mostly African American communities, displacing thousands of residents and small businesses and ripping apart the fabric of these long established neighborhoods."
Nearly 38 percent of Black children live in poverty, compared to about 12 percent of White children who are considered poor. A report by the Children's Defense Fund said that 23 percent of Black children under the age of 5 live in extreme poverty.
"A growing body of research shows that being raised in such high-poverty communities undermines the long-term life chances of children," the CAP report stated. "For example, poverty has been shown to genetically age children, and living in communities exposed to violence impairs cognitive ability."
The report said that this increases the likelihood that children will have poor health and educational outcomes and few employment opportunities in the future.
Even Blacks who are considered middle class, based on their income, often live in poor neighborhoods.
The CAP report cited research by Patrick Sharkey, an associate professor of Sociology at New York University that found "the average African American family making $100,000 a year lives in a more disadvantaged neighborhood than the average white family making $30,000 a year, revealing how past social policies continue to affect neighborhood choice."
The report continued: "Sharkey explains that the same, mostly African American families have lived in the most disadvantaged neighborhoods over long periods of time and over multiple generations, limiting access to better opportunities. 'Neighborhood poverty experienced a generation ago doesn't disappear. It doesn't become inconsequential. It lingers on to affect the next generation."
San Antonio, Texas; Philadelphia, Pennsylvania; Los Angeles, California; Southeastern Kentucky; and the Choctaw Nation of Oklahoma were selected as Promise Zones in the first round of the process. The CAP report said that the administration plans to designate a total of 20 Promise Zones by 2016.