Combs electrifies crowd at Howard University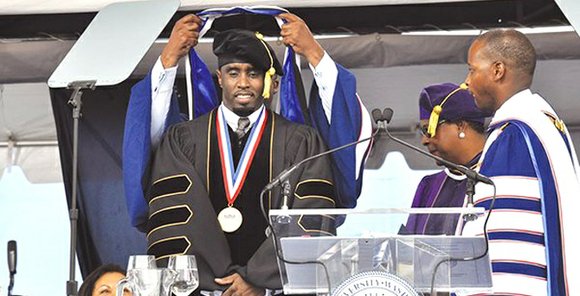 The Washington Informer
(NNPA) – A record number of graduates took part in Howard University's 146th Commencement Convocation, on a day that saw music mogul Sean "Puffy" Combs excite his supporters and convert skeptics during his keynote address on May 10.
The selection of Combs, a 44-year-old music executive, rapper and successful businessman, stirred controversy with the Howard University community split about the appropriateness of officials choosing a dropout whose music and some past actions haven't always represented the school's fine educational tradition and ideals.
But the large crowd gave Combs – bestowed with an honorary Doctor of Humanities degree – a welcome fit for one of their own who had finally returned home.
"I've rushed through some of the most exciting times in my life and I promised that when I got here, I'd take my time," Combs said. "Ain't no homecoming like a Howard homecoming. I'm glad to be home. I thank the Class of 2014 for blessing me with the opportunity to come and speak to you this day.
"I'm honored and recognize that only this family could take a son with three name changes and give him a fourth, Dr. Combs …"
True to his word, Combs stood smiling as people chanted his name and looked on appreciatively for several moments before beginning his remarks.
Other honorees included Jazz master and Howard grad Benny Golson; renowned surgeon and organ transplant specialist Dr. Clive O. Callender; PepsiCo Chairman and CEO Indra Nooyi; and CNN anchor and political journalist Wolf Blitzer.
"I'm incredibly honored, it almost feels surreal," said Nooyi who grew up in Madras, India, in a middle-class family. "Howard University is an incredible place and has been developing young people who are changing the face of law, politics and business. Graduates should be immensely proud because you are following thousands of people who created history for you.
"Howard University has opened limitless possibilities for you. Pick a path and go change the world."
The crowd cheered loudly as interim President Dr. Wayne A.I. Frederick took the podium.
"I would like you to stand, face the stands and say thanks to all those who helped you get here," said Frederick, an alum who graduated from Howard's medical school in 1994. "Commencement is my favorite time of year because years of work come to an end."
Frederick, who has served as the university's provost and chief academic officer since last June, spoke of the 276 young girls and women who were abducted by armed Islamist militants on April 14.
"Let's not take our freedom for granted," he said. "Potential Howard University students are being held captive. Howard University stands firmly in saying, 'Bring back our girls!'"
He said that education gives graduates a critical means to achieve success while offering an array of possibilities.
"Education is the ink on which that promise is written and Howard University is the ink," he intoned.
Frederick said the class of 2014 has 2,600 graduates – 1,679 undergrads, 950 professional and graduate students, and 105 doctoral students from 40 states and the District of Columbia, and 23 countries on five continents. He also recognized the faculty who has worked a collective 800 years and a staff that has given 1,001 years to the institution.