Saving Michael
Local playwright debuts art with a message
Mike McGee | 6/19/2014, 8:10 p.m.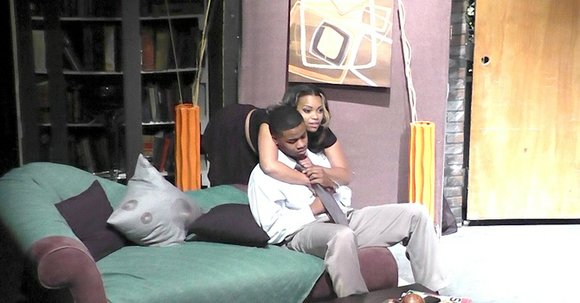 The Dallas Examiner
In a tiny theater where the front seats and the edge of the stage are only one foot apart, a new playwright, Georgiana Anwuzia, added her voice to the Metroplex's artistic conversation. The young writer/director made her debut with the stage play Saving Michael on May 30 and May 31 at the Arts Center Theater in Plano.
"I've written a couple of screenplays and pilots but this is the first official thing that I've done," she said.
Much of the scenery was connected to hooks or pivots so that it could be easily moved; most of it doubled as the set for another production, Avenue Q, held at different times in the same performance space.
The two-act play is a dramatic, in-your-face tale of a group of urban 20-somethings. Bridgette Journey is a newlywed as well as the friend and employer of Hannah Watson. Thomas Wales, an accountant turned missionary, is the best friend of Journey. Rev. Landon is Bridgette's father-in-law, while his son, titular character Michael Landon, is the newly hitched groom who's lost his religious faith after the death of his mother years before.
Each major character has dealt with loss, be it the loss of a loved one, faith or self-respect. The play opens with an ongoing affair between Michael and his wife's best friend, complete with uncomfortable chit-chat and nonchalant covering of bodies. The two characters are committing an act of betrayal, yet, in doing so, they are also searching in vain for something that will give them contentment in their loss.
Within the script lays various obstacles enveloping the characters: infidelity, secrets, declarations of faith and affirmations about the lack thereof. The specter of cancer is raised and a pregnancy sends the assorted conflicts into overdrive. Anwuzia, who described herself as coming from "African culture" but has lived in London and the U.S., testified that the basic physical and religious components of the work were drawn from her own life.
"In 2012 I had a …" she paused, recounting the authentic history of a fictional plot point. "The doctor found a lump and I was freaking out."
About 28 at the time, a flood of feelings filled her mind.
"Oh my God. This is scary," she recalled thinking to herself. "I'm not married, yet. You know what I mean? I felt like life was passing me by."
The mass turned out to be benign but the experience got the wheels of contemplation turning in her mind.
"What does life mean when that happens?" she asked, philosophically. "I'm strong in my faith; am I still going to continue to believe? Or doubt? What's going to happen?"
Saving Michael is written from an unabashedly Christian perspective, but Anwuzia pointed out that it also served as a cautionary tale regarding women's health.
"Young people don't think about their health. They're 27 years old," the playwright said, referring to the characters in her play. "We take that for granted because we're young, but so many die so young."