Saving Michael
Local playwright debuts art with a message
Mike McGee | 6/19/2014, 8:10 p.m.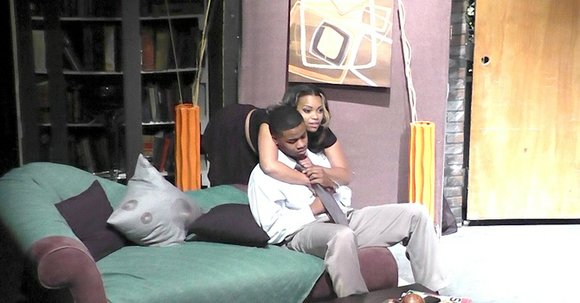 The acting duo of Perri Camper as Journey and Lola Wilson as Watson brought believability to their onstage "frenemy" chemistry. Remembrances of good times past and long memories of distant injuries seeped to the surface, with both Camper and Wilson effectively riding the pendulum between comedy and tragedy.
Camper will soon be moving to New York to give Broadway a try. She admitted that she was pleased to have been able to work with Anwuzia in her final DFW stage appearance and praised the director's style.
"She came very prepared. She had her book; and we talked about it, we talked through it," Camper said about working with the director and exploring her character.
She also said Anwuzia gave the actors the freedom to try different things during rehearsal.
"If it wasn't the best choice then she would tell us, 'Okay, well, let's try it this way.' But we still had that leeway as actors and actresses," Camper said. "She did not stifle our creativity."
Wilson concurred that working with Anwuzia was a positive experience.
"The script was an amazing script, very detail-oriented. Just enough to keep you in, just enough to keep you curious," she declared. Wilson added that Anwuzia's artistic drive kept her focused. "I think what I loved most about it is that she was prepared and she was brave, and I wanted to go on that journey with her," she said.
Anwuzia acknowledged that getting her first play before an audience was not an easy task.
"I think for me starting the process was difficult because no one's heard of my work or anything like that, and so the process was just believing that I could do it because I've had the passion for so long," she stated.
"Finding this was awesome," she added, voicing her gratitude for the Arts Center Theater giving her work a chance.
Anwuzia – who also acts from time to time – hopes to stage the play again, as well as have other original scripts in her personal library seen by audiences. She also revealed that she'd like to do television and film.
"I want to grow. I want to learn more, and grow in my talent and in my gift," she stated part of that gift is in being a messenger. "It's been a difficult process. It's been a really lonely process, but it's worth it. It's really worth it to get the message out, whomever wants to hear it."
She used her first play to deliver a message of importance to her.
"That forgiveness is not as hard as we always assume that it is. And it's not as hard to forget," she said. "It might linger, but I think we need to learn to forgive, no matter how difficult it is."