Dr. Jeremiah Wright: Christians should work together, uplift Black community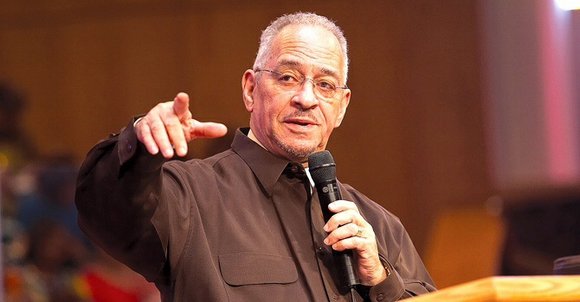 The Dallas Examiner
Religious leader Dr. Jeremiah Wright Jr., the retired pastor of Trinity United Church of Christ in Chicago and former mentor to President Barack Obama, urged Christians to unite and work together as the Body of Christ, during his speech at the 108th Annual Session of the National Baptist Congress "A School of Methods for Christian Training." He also stressed the importance of people combining their efforts to correct the problems affecting the Black community.
His comments reflected the conference's theme, "Equipping Others for the Work of Salvation," which focused on Ephesians 4:11-13. The conference, held June 8 through June 13 at the Sheraton Dallas Hotel, provided churches, pastors and individuals with resources to enhance their spiritual development and theological training.
Wright explained that in the scripture, the Apostle Paul uses an analogy between the Body of Christ and the human body to indicate that Christians must function as a community. Just as the body has many parts that work in congruence to operate the entire organism, so must Christians act jointly to accomplish the goals of the church.
He noted that "unity" did not mean "uniformity," expressing that Christians had different spiritual gifts. He also clarified that "diversity" did not mean "divisiveness," commenting that Christians, although varied, were called to work in tandem. He further preached that "different" did not mean "deficient," stating that one Christian's spiritual gifts were not better than another's.
Wright later combined the importance of working as a community to the uplifting of African Americans.
"The fact that we have a Black president isn't enough," Wright said. "We should be focused on the whole notion of deficit."
He mentioned that African Americans should collectively operate to end the mass incarceration of Black males, the privatization of prisons and public schools, the decimation of the public school system, and gang violence. To emphasize his point, he compared African Americans to a miner's canary.
He detailed that long ago, canaries were used in coal mining to detect when toxic gases such as carbon monoxide, carbon dioxide and methane were in a mine. The gases would kill the bird before affecting the miners. Signs of distress from the bird told minors that conditions were unsafe and that they should leave.
"Every time canaries kill-over from unemployment, every time canaries kill-over from a lack of social services, crowding in tenements, gang violence, [and] every time canaries kill-over from educational problems, somebody does a study on the canaries. There's nothing wrong with the canaries. Fix the environment. There's a toxic environment," Wright said.
He communicated that for the sake of their children, African Americans should be focused on changing the "toxic environment." He added that the lack of positive surroundings caused him to worry about his 12-year-old grandson's future.
On another note, he clarified that he had no hatred toward Whites, even though many of his sermons and speeches conveyed a consistent theme of Black liberation.
"Black liberation theology is not racist. It talks about seeing things from an African-center, not from a Eurocentric point-of-view," Wright said.
He stated that, too often, people are taught things from a European perspective, but are taught very little about other perspectives. He added that those who deemed him a racist only made those assumptions based on the negative portrayals they've seen of him in the media.
Dr. Fred Luter Jr., the first African American president of the Southern Baptist Convention, an organization with a long history of promoting racism, also attended the conference and gave a speech on the event's theme. He currently pastors Franklin Avenue Baptist Church in New Orleans.
Conference activities included worship services, general assemblies, adult and youth theology classes, dance, mime, and drill team presentations, workshops, youth oratorical contests, a gospel choir concert, the play Mama's Girls by the award-winning playwright Garret Davis, the First Lady's Fashion Show, and the Praise and Laughs Christian Comedy show.
Conference attendees also explored various attractions around the city, some of which include the African American Museum, The Black Academy of Arts and Letters, the Dallas World Aquarium, the Dallas Arboretum, Six Flags over Texas and the AT&T Stadium for the Dallas Cowboys.
Next year's conference will be in Atlanta, Georgia, from June 21 to June 26.