Mobilizing key groups can change politics of the Deep South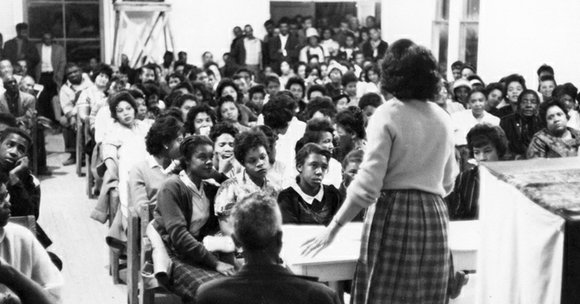 The report said that today's civil rights leaders and stakeholders should learn three key lessons from the Freedom Summer of 1964: voter registration can overcome voter suppression, coalition-building is the key to transformative political power, and that a successful movement is a marathon, not a sprint.
Stacey Abrams, House minority leader in the Georgia State Assembly, said people that have never voted hear about voter intimidation and voter suppression, but they don't know what that means.
"You don't know if you're going to stand in line and cause trouble, you don't know if you're going to lose your job, you don't know what that card is that you keep hearing about and you know that you don't have whatever ID they think you should have," Abrams said.
More than 800,000 Black, Latino and Asian Americans are not registered to vote in Georgia, said Abrams. It takes less than half of that, just 260,000, to change a statewide election.
"If you change Georgia, you begin to change the South and if you change the South you change the nation," Abrams explained. "All of those social policies that we like to talk about can be lived in the Deep South and if they are lived and realized they can be exported to the rest of the country."
Abrams said that voters' rights advocates and community stakeholders have to start talking about voter identification in a more positive way.
Ben Jealous, senior fellow for Center for American Progress, former president of the NAACP, and author of the report said, "Right now, when we talk about the South, we end up talking about voter suppression. What we really need to be talking about is the need for massive voter registration."
The report said that "registering just 30 percent of eligible unregistered Black voters or other voters of color could shift the political calculus in a number of Black Belt states" and "Registering 60 percent or 90 percent would change the political calculus in an even greater number of states."
The CAP report cited Maryland, where a number of progressive policy changes are taking hold, as an example of a state where slavery was once commonplace and now a diverse electorate has had a significant political impact.
"It is easy to forget that Maryland enslaved half its population at the time of the Civil War and that it is the state from which Harriet Tubman and Frederick Douglass escaped," the report said. "Yet Maryland sits below the Mason-Dixon Line, and it practiced legalized segregation up until 1954."
In just a few years, "The Free State" has experienced a number of key legislative reforms including a ban on the death penalty, the legalization of same-sex marriage, decriminalization of small amounts of marijuana, and the extension of early voting and same-day registration.
The report continued: "Maryland shows what can happen when people come together across old lines of separation and division to promote progressive values and policies. Maryland is not seceding from the South, instead it is demonstrating what the South's future can and should be."
Still, the report suggested that changing politics in the Black Belt won't be an easy battle for pollsters and others seeking to energize potential voters in the South and across the country.
The report estimated that nearly 21 million members of the so-called "Rising American Electorate," consisting of "people of color, unmarried women, and youth voters ages 18 to 29 years old," that voted in 2012, might not vote in the 2014 elections.
Organizers and voters' rights advocates still have a long march ahead.
"What the 'Freedom Summer' taught us is that the antidote for massive voter suppression is massive voter registration," Jealous said. "There is a dormant majority throughout the South that can be unleashed if we can get back to the spirit of the 'Freedom Summer' and focus on massive voter registration."