Students offer help, hope to families in crisis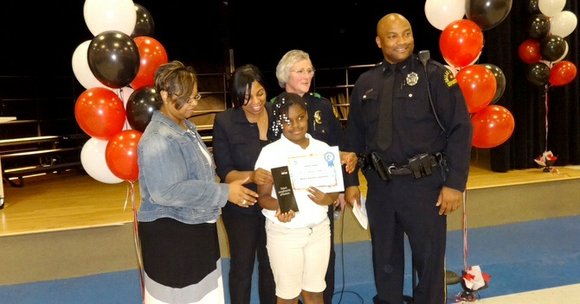 The Dallas Examiner
Help and hope for victims of domestic violence should be as close as your fingertips, according to the HopeLine, a national hotline that offers resources to help family members in crisis.
But not every family has a cellphone to call the hotline. In an effort to combat the dual problems that some families encounter, the Dallas Police Department, Verizon and CONTACT – a local crisis counseling organization – organized Blue in the School.
BITS, in its second year, offered a four-week curriculum that gave students the skills to learn how to defend themselves in harmful situations and what to do and who to call when crisis is near.
Dallas Police Chief David O. Brown, in a message to the press, stated that the purpose of the program is to "prevent negative behaviors among students by developing and implementing specifically tailored, age-appropriate curriculum to instill lifelong skills for healthy decisions-making, problem-solving, negative peer pressure reversal, conflict management and character development."
During the program, students also competed in the Verizon Wireless HopeLine Competition where students collect used cellphones for victims, survivors and organizations that serve victims of domestic violence. The students from 14 Dallas Independent School District schools also competed for prizes.
On May 29, Wilmer-Hutchins Elementary School fourth graders were awarded prizes during a class celebration held on campus, located on J.J. Lemmon Road. Approximately 200 students were given prizes from the wireless company for collecting the most used cellphones.
The presentation included anti-bullying messages and what happens when students experience bullying at school.
"With this program, students are more aware and they are able to recognize when they are being bullied, or when other students are bullying their friends, and they are able to bring it to the attention of adults," said Joy Morris, principal of Wilmer-Hutchins. "And know the steps that they need to take in order to prevent it from happening. Also, in order to empower students and not give up hope when they are being bullied, we always tell them that they can be their best and we tell them that education is the best thing for them as long as they are disciplined and get their homework done, they can be the best that they can be."
According to the Dallas Police Department, the crime rate has gone down in the area. However, bullying and domestic violence continue to be a national issue. There are several efforts taken by the police department to help youth.
Officer Sally Lannam, lieutenant of the Youth Outreach Division, said there are several efforts being taken to reduce crime.
"Dallas Mayor Mike Rawlings has his initiative regarding getting through the men on not committing domestic violence and then the Dallas Police Department has a lot of initiatives to help with this cause," she explained. "Then each patrol station has their own police unit, where they deal with crimes specifically in their patrol division and then what we also have as part of the community engagement movement, we have outreach and that's where we have Blue in the School, and we specifically deal with teaching kids, about caring, and what is a healthy relationship, and unhealthy relationship, and the difference between abuse and discipline, and then about bullying, standing up for yourselves, tell somebody, report what is going on, tell a trusted adult, and stand up for your friends and that they don't get bullied as well."
Lannam also stated that Dallas ISD had their own programs for youth and their families. Verizon's HopeLine is another alternative for youth and families experiencing domestic violence. Yet, she acknowledged that there is still more work to be done.
"There is a lot of different initiative underway to try and help eliminate the problem," she said.