Obama receives new agenda for jobs, freedom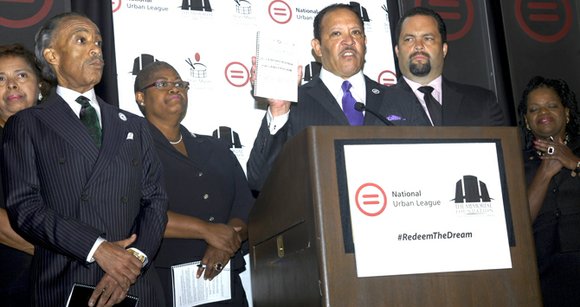 Morial continued: "Before income inequality became a mainstream, hot button issue, Black civil rights organizations back in 2010, 2011 and 2013 were encouraging the president to increase his focus on it. This State of the Union this second term agenda reflects an embrace of some of the recommendations that we have been making over the years."
Morial also noted that Attorney General Eric Holder has taken on criminal justice reform in a way that is unprecedented. Holder called for states to reform or repeal laws that banned ex-felons from voting during an event at the Georgetown University Law Center in Washington, D.C. The attorney general expressed support for sentencing reform and new guidelines for prosecutors at public events last year.
"The criminal justice reforms highlighted in the 21st Century Agenda for Jobs and Freedom have long been a concern to the civil and human rights community," said Wade Henderson, president and CEO of the Leadership Conference on Civil and Human Rights. "Our community has raised these issues repeatedly and loudly, and we've refused to be ignored. What we're seeing now – after many years of activism – is a harmonic convergence of economic, political and moral interests coming together to increase momentum in support of common sense reforms to make our criminal justice system more fair, humane and just."
Morial called for the Black community to discuss, comment, praise, criticize, add to the "21st Century Agenda" in meaningful ways.
"We are firmly convinced the president will fight for jobs, training, minimum wage and voting rights as well as explore the other areas of concern," Sharpton said. "We are determined to build this country and make it work for everyone equally and fairly."