Soaring Above Racism
Dr. Calvin J. Spann dared to live his dream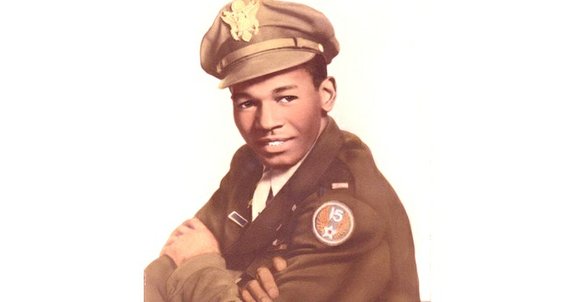 The Dallas Examiner
"Either we must attain freedom for the whole world or there will be no world left for any of us." – Walter F. White, executive secretary of the NAACP
The heroic actions of one individual can help change the character of a city, or the course of a nation. Dr. Calvin J. Spann, now a resident of Allen, played an important part in changing the fate of the world as a member of the historic Tuskegee Airmen.
Most recently depicted in the film Red Tails and the documentary In Their Own Words: The Tuskegee Airmen, these pilots were all-Black WWII combat flyers in the 100th Fighter Squadron of the 332nd Fighter Group.
The Airmen were members of the Army Air Corps during the days of the segregated U.S. military. Their job was to escort allied bombers over North Africa and Europe, helping protect them from the German air force as they destroyed munitions plants, railroad yards and similar targets, as noted in Spann's biography on http://www.calvinspann.com.
At the age of 89 and undergoing dialysis, Spann believes it is imperative to share such stories with younger people so that history is not forgotten.
His interest in flight began at an early age.
"I went to high school and we learned a lot about airplanes and why they stayed in the air and I vowed then that if I got the opportunity to fly, I would fly," he recalled.
Since Spann lived near a small airport in New Jersey, an interest in flight was natural to him; it was part of his environment.
"Planes used to take off and fly over our house, and that inspired me to want to become a flyer," he reflected.
During his senior year, American soldiers were called into action as WWII began. Spann figured that would be his opportunity to fly, so he volunteered for service, he wrote on his website. His sister accepted his high school diploma for him because he was already going through military training when his class graduated.
He was sent to Keesler Field, Miss., where he was told that the Army Air Corp didn't train African American cadets. A week later he went to Tuskegee, Ala., where they were training Black men for the 100th Fighter Squadron. Spann eventually reached the rank of lieutenant as a member of the Red Tails.
Throughout his service during the war, American pilots flew standard propeller planes. However, the Germans eventually developed a technological advance that Spann experienced firsthand during air combat: the Messerschmitt Me 262 Schwalbe jet. These jets were much faster than the Americans' conventional propeller airplane.
"The most successful mission that I remember was flying all the way to Berlin with Capt. Roscoe Brown during the war. For a young fellow it was real scary, but we had a very good plane and Capt. Brown was a great flyer," Spann remarked. The flyers left their base in Ramitelli, Italy, to assist in a bombing run.
"The Germans had a jet and we didn't have a jet at the time," Spann said as he described his role as pilot of a P-51 Mustang. "… and on this mission I was flying on Capt. Brown's wing. And a jet attacked us and we were able to … I say we, but Capt. Brown's tracers ran into the jet … and we shot the jet down."