Two Podners: Restaurant to retail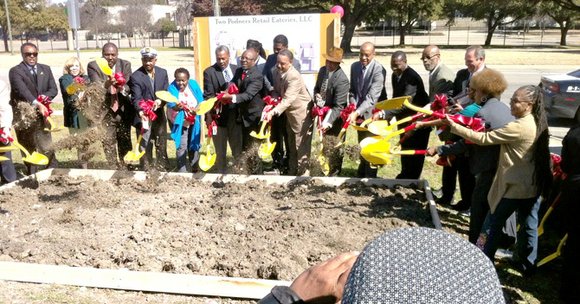 The Dallas Examiner
"Good service, good food and good people" is the motto of Two Podners Barbeque and Sea Food restaurants. The phrase is also intended to represent the elements that helped the restaurant grow from a single barbecue eatery into Two Podners Retail Eateries LLC, a down-home-dining empire.
Founded by friends James Runnels and Fred Conwright in 1982, it now plays a pivotal role in Fair Park as part of the mayor's GrowSouth plan. The founders held a groundbreaking ceremony on Feb. 13 at 1401 Robert B. Cullum Blvd. for the restaurant's new facility, which will anchor a new shopping center. They are currently in discussion with Subway, Krispy Kreme, Del Taco and a Chinese restaurant to fill the center's vacancies.
"It's a big day for the community. It's a big day for the city of Dallas," Conwright stated.
The development was possible through a forgivable loan of $275,000 from the city.
A Jan. 31 memo from the city called for the money to be used "for gap financing to develop a 11,000 square foot commercial building" across the street from the current restaurant. This plan would create 6,500 square feet of retail space in addition to a new restaurant.
Contained within the memo was a statement that the plan would create 40 to 50 jobs. Runnels and Conwright put $465 thousand of their own money into the project, while Spirit Bank of Texas committed to another $1 million.
Lee McKinney from the Office of Economic Development tried to allay any controversy about the public/private partnership between the city, Runnels and Conwright.
"Not only do they come to the table to say 'We're going to do this' but they come with some money to get it done," McKinney told the audience at the ceremony. "This is going to be a commercial building that's going to be center space for other business just like all the other commercial buildings that you see around town."
She told the crowd that is was time for new property development in Fair Park and the two businessmen were taking on the bulk of the financial risk.
"Everybody is saying 'Well, Fred and James [are] going to put about 20 percent in. No, Fred and James [are] going to put about 85 or 90 percent in," McKinney continued. "Because there's $1.1 million in loans that will get paid for out of their pocket. It's their money."
The overall cost of the project will be almost $2 million, Conwright said. He rebuffed the critics of the deal and cited that, in order to secure some of the funding, he and his partner simply used a program that the city already has in place.
"It seems to be that every time a small business capitalizes on that program everybody wants to label it as a gimme, or free deal, or sweetheart deal," he replied. "But this is a program that has been utilized in all parts of the city."
Conwright pointed out that Reunion Arena and One Main Place also put the gap loan program to use.