Two Podners: Restaurant to retail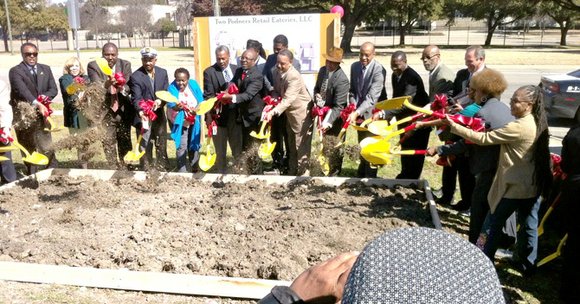 "I just made it fair for me to utilize." Conwright said he believed the development can only help the Metroplex.
"I look at it like this: The city is one body. Anytime you can do anything to address any part of the body – the arm, the leg – it impacts the full body," Conwright illustrated. "So this is going to impact the city as a whole. It may seem insignificant to other parts of the city but I'm a tax payer; it's going to bring in revenue, so it's got to help the city."
Councilwoman Carolyn Davis of District 7 said that the city is trying to establish a 'restaurant row' in Fair Park.
"… And then further down Robert B. Cullum we want to turn that into some kind of mixed-development brownstone," she said. "We're trying to bring economic development back into this neighborhood."
The developers hope to have everything completed in time for the State Fair of Texas in October. They are currently in talks with several restaurants as potential tenants.
Davis acknowledged that she and other city leaders embraced the idea of big-name department stores finding a home in Dallas but also pointed out the importance of local merchants.
"We want to also support African American businesses in this community, and we want to help create new African American businesses to come back into this community," Davis declared. "We want to do some office high-rises to bring in doctors and lawyers and architects and dentists."
The councilwoman stated that she hoped this new development would be the first step of a new phase of business in the neighborhood and praised Runnels and Conwright for keeping their expansion local.
"We just have to support those businesses who want to stay here and make a difference," she said.v