Conversation about race, economics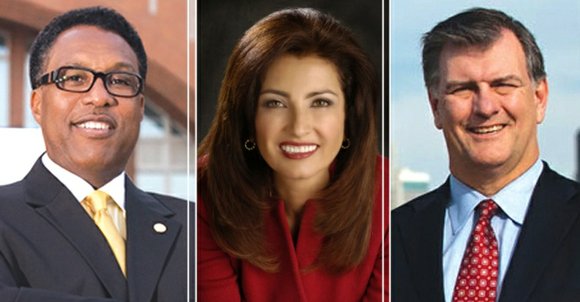 The Dallas Examiner
The issue of racism and its impact on economic opportunity was the topic of round two of Conversations about Race, a multi-part discussion with community members and selected panelists, held Feb. 22 in the Dallas City Hall Council Chambers. Co-chaired by Mayor Mike Rawlings, Councilmember Dwaine Caraway, and County Commissioner Dr. Elba Garcia, the event was held in preparation for Face Race: A National Conference 2014, scheduled to take place on Nov. 13 through Nov. 15.
Panelists included Joe Tave, educator and community activist; Hector Flores, former national president of LULAC; Katrina Keyes, president and CEO of K Strategies Group; Hilda Duarte, educator and community activist; Jim Schutze, writer for the Dallas Observer; Wilton Munnings, president and COO of Dallas Black Chamber of Commerce; John Martinez, president of The Regional Hispanic Contractors Association; Ramiro Luna, a Dream Act activist; Dr. Juanita Wallace, president of Dallas NAACP; Jim Oberwetter, president of the Dallas Regional Chamber; and Alice Murray, president of the Dallas Citizens Council.
Attorney James C. Belt Jr. and Ken Benson, executive director of the Dallas Breakfast Club, served as moderators. Beginning the discussion, Caraway explained that inequality existed within the city. He stated the purpose of the event was to acknowledge and forgive the unjust systems that perpetuated the inequality, and to devise ways on how to move forward.
"We're not here today talking about where's our 40 acres and a mule," Caraway said. "The reason we're having this conversation is not to change what's happened – we cannot do that – but to close the advantage gap and make it as fair as possible for all."
He added that Dallas City Council would consider the points mentioned during the discussion when crafting policy. Rawlings also expressed that the event was held to provide insight on how the city could become less segregated.
Furthermore, Rawlings acknowledged that councilmembers understood the community's desire to be a part of the dialogue, which was pointed out at the first discussion, explored racism in the media. Community members were given one hour to voice comments and questions; then panelists responded.
Community members mostly spoke about their individual experiences with economic inequality, ways the city could increase economic development, and how the city could stop racism. One community member expressed his frustration that the city withheld basic infrastructure, such as access to sewer lines, from Black landowners. Another complained that there weren't enough jobs in Southern Dallas.
A man who is president and founder of the Ex-offenders of America Alumni Association elucidated that ex-convicts have a difficult time re-entering the workforce because people despise and reject them. He detailed how witnessing the murder of his best friend by the Ku Klux Klan in Fort Worth as a child encouraged him to lead a life of crime.
"I festered up a hatred for those kind of people that pushed racism, so then I started hating myself. I said, 'Well since they can kill Black folks and nothing be done about it, let me kill White folks. I went to prison for it and stayed almost two decades. [But] I've been out three decades," the man said.