Conversation about race, economics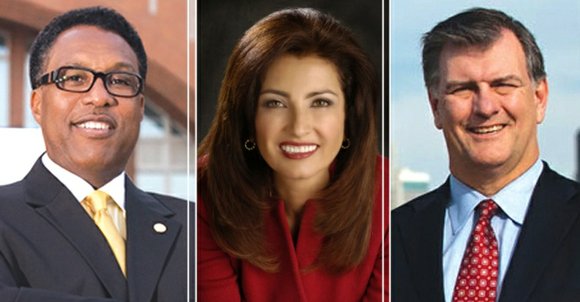 He later explained that ex-convicts are capable of staying out of trouble and that giving them access to jobs could reduce recidivism. Another ex-convict who commented he was wrongly accused of a crime expressed similar sentiments, and a man charged with a felony noted his success in running his own software company.
One person commended Rawlings on his initiatives for economic development and urged him to involve small businesses. Referencing the growing demand for science, technology, engineering and math careers, another person asked the panel to bring more technology companies to the city. However, he referred to the lack of individuals capable of performing these jobs and suggested that schools place a greater emphasis on technology-related education.
A woman entreated the audience to patronize local businesses, and another woman proposed the creation of a program that would recruit Dallas ISD students into the city's workforce.
Moreover, one community member stressed the need for youth to be involved in the conversation, and one asked why achievement gaps remained for Black and White students educated at the same schools and taught by the same teachers.
In terms of ending racism, suggestions included "getting into the pocketbooks" of people that promote racism, neglecting a victim mindset, vocalizing injustices and reducing hatred by maintaining a sense of humor.
Three protestors interrupted the discussion with an outburst chastising the Dallas Police Department for killing young minorities. Police later escorted them outside.
Panelists mainly discussed how small businesses could be involved in improving economic development in East, West and South Dallas. Munnings reasoned that offering small businesses tax credits and other incentives would encourage them to move to these areas of the city.
In addition, Keyes expounded that small businesses needed to be involved in developing programs that support them, explaining that many people who make decisions for small businesses are not small business owners. She also stated that minority-owned small businesses had to be strengthened, arguing that these businesses give more jobs to minorities than other businesses.
Oberwetter declared that small businesses located in the same neighborhoods should work together, and Duarte imparted that the city could establish a mentoring program between larger businesses and small businesses. Tave urged panelists to convince banks to reinvest in economically disadvantaged areas.
Caraway proposed that there be separate aid for really small businesses that don't have bank portfolios. Furthermore, Martinez remarked that long-term wealth building required small business owners to have an education.
Rawlings indicated that he was committed to advancing the city's economy by growing the marketplace. He commented that one of his initiatives in the GrowSouth plan was to create a private equity fund between 20 and 70 million dollars that would provide businesses with capital if banks didn't cover all their required financing.
Most panelists agreed that investing in education was another way to increase economic opportunities. Flores cited that the city has a 32 percent student dropout rate and noted that many students who drop out of school end up in the penitentiary.
Duarte conveyed that the city has to provide more educational programs for students and that adults have the responsibility of being role models as well as nurturers. She divulged how she witnessed students being yelled at, demeaned and mistreated at some of the schools she has worked for.
In addition, Wallace commented that teachers must expect high standards of achievement from all their students, for she reckoned that students perform according to teachers' perceptions of their abilities. She also mentioned that parents and school counselors must do a better job in preparing students for college.
To stop racism, Luna iterated that more minorities should be elected to government positions and fairly depicted in the media. He also highlighted the importance of empowering youth by encouraging them to use their voice.
Wallace said people first had to understand where racism came from, how it functions and why it's continued, in order to undo it. She further noted that ending racism required Blacks to uphold the tenets of equality for everyone and to take responsibility for their actions
A recording of the event is provided at http://www.dallascitynewsroom.com/dcnn.htm. The next Conversations about Race discussion will take place on April 26 and will focus on racism's impact on youth.