Minorities herded into private prisons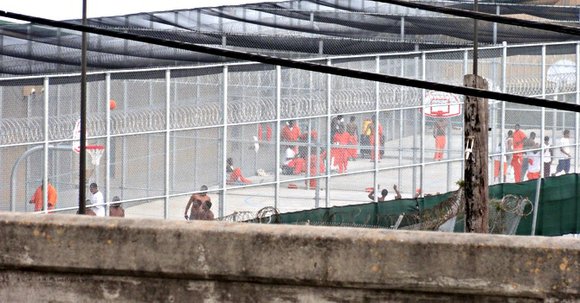 WASHINGTON (NNPA) – Although private schools are often lauded for providing a better education to students, the same can't be said of private prisons, which house a disproportionate number of people of color, according to a report published in the latest issue of Radical Criminology, an online scholarly journal.
"The overrepresentation of people of color in private prisons indicates they are disproportionately siphoned away from public prisons – precisely the types of facilities that provide the greatest access to educational and rehabilitative programs and services," the report stated. "People of color continue to be seen in the national imagination as sources of profit extraction and not necessarily as citizens deserving of public services."
According to the Bureau of Justice Statistics, 137,220 offenders were serving time in private facilities, a 55 percent increase over the previous decade.
"One thing that came out of [the data analysis] was that there are fewer rehabilitative programs and educational services available in for-profit facilities, relative to public facilities," said Christopher Petrella, a doctoral candidate in African American Studies at University of California-Berkeley and the author of the report. "So when those two trends collide [racial segregation and fewer programs], it begs a variety of questions."
One has to do with the use of health and age stipulations in private contracts that directly leads to overrepresentation of Blacks and Hispanics in privatized correctional facilities.
More than a half-million Black Americans aged 18 to 49 were in public and private state or federal prisons as of 2010, compared to 396,600 Whites, according to the Bureau of Justice Statistics. Among inmates age 50 and older, however, White inmate population exceeds their African American counterparts.
"… Private prison management companies responsible for providing health services exempt themselves contractually from accepting and housing prisoners with chronic medical conditions as well as those whose health care costs will be 'above average,'" the report stated. "This fact results in a prisoner profile that is far younger and far 'darker' in minimum and/or medium security private facilities than in select counterpart public facilities. In fact, the states in which the private versus public racial disparities are most pronounced also happen to be the states in which the private versus public age disparities are most salient."
The most recent data available from the BJS counted 415 privately owned correctional facilities across the country – as of 2005 – all engaged in state and/or federal contracts. Today, the two corrections firms with the most beds – Corrections Corporation of America and The GEO Group Inc. – own and/or manage 125 of those facilities, and more than half of the state and local contracts in the United States.
For-profit prisons often cap the amount they will spend on inmate care. Contractual terms with state and local corrections departments explicitly obligate states to funnel older and/or less healthy offenders into state-run facilities, thereby not subtracting from the bottom line of private facilities.
For example, a contract between the Mississippi Department of Corrections and Management & Training Corporation states: "[MTC] will not be responsible or liable for providing counseling and/or mental health programs. MTC will not be responsible or liable for providing medical, mental health, optometry, pharmaceutical, dental, or similar services. MDOC shall provide security and control of inmates for outpatient needs and /or hospitalization."