Monday Night Politics concludes: Education Board candidates, Medicare expansion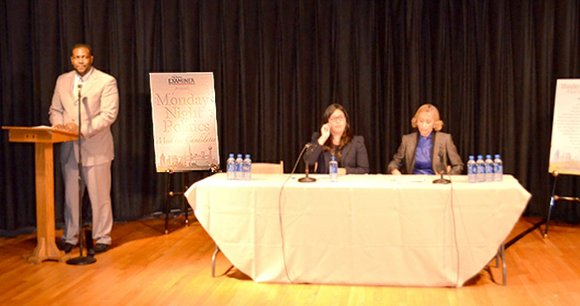 The Dallas Examiner
"So far, I understand that the numbers for early voting are low," said Mollie Belt, publisher of The Dallas Examiner, as Monday Night Politics – Meet the Candidates came to a close on Feb. 24. "We have published a voter education guide to help people be informed when they go to the ballot. The picture on the front page of our voter guide was taken in Dallas after the Selma, Ala., march, which was all about voting. Somehow, we have got to get the word out to people to remember this picture because people were beaten in order for them to win the right to vote."
The meeting was the last of a series of political forums, which are organized and presented by The Dallas Examiner and moderated by Casey Thomas.
The first part of the forum featured candidates running for the office of State Board of Education District 13, which include Andrea Hilburn, Erika Beltran and A. Denise Russell. Russell was not present at the forum.
Mavis Knight, who has held the position for the State Board of Education District 13 since 2002, is not seeking another term.
District 13 covers a broad part of Dallas County that includes parts of Fort Worth.
Beltran began the forum discussion.
"I am a native of District 13 and also a product of District 13," Beltran said. "I attended District 13 public schools and credit public education to having changed my life. I grew up in poverty. My parents came to this country from Mexico with pretty much nothing. My parents don't speak English and my dad has a second grade level education and my mom had a sixth grade level education. However, I was fortunate that in the second grade, I had a teacher who approached my parents and encouraged them to enroll me in a magnet school on the south side of Fort Worth. From that experience, I was on a different path which included being in a school that was higher performing and ended up going to college in Massachusetts at Williams College."
Beltran said it was in college when she decided that she needed to give back to the community that raised her.
"We had a lot of recruiters come to us in college that wanted us to work as a banker or other high end job," she said. "But it was during this time that I thought about working in the community I grew up in to help give back. I came home and became a teacher and taught bilingual kindergarten and bilingual fourth grade. After that, I worked in public policy because I wanted to have a bigger impact than the four walls in a classroom and I knew that there were institutional barriers preventing the kids in my classroom from being successful. I then went to UT and got a master's in public affairs and then worked in California and Washington, D.C., for a national civil rights organization advocating for children from low-income households. I want to be a advocate for students in District 13 because I recently saw that families in this community in Fair Park have an average household income of $14,000. I believe that education can be a pathway out of poverty for students and families across this district just like it was for me. My story of success should not be an exception."