Monday Night Politics concludes: Education Board candidates, Medicare expansion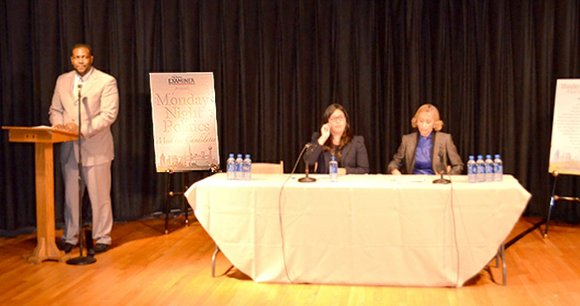 Hilburn spoke next on her qualifications.
"I started out as a student across town," Hilburn said. "I went to Hamilton Park Elementary, Hamilton Park Middle School and Hamilton Park High School. From there, I went to North Texas State and received a bachelor's in philosophy in education and received my master's from Texas A&M in Commerce where I received my endorsement for principalship as well as superintendent."
Hilburn also earned her Ph.D. in public affairs at the University of Texas at Dallas.
"Why public affairs?" Hilburn asked the audience. "Because I had everything I needed in the education field and a public affair doctorate allowed me to work in the social arena where I could help students that were also trying to get through the schools. I have also worked for over 40 years. I have been in District 13 for over 40 years. I have worked in every capacity of education starting as a classroom teacher, a vocational counselor, assistant principal, dean of instruction, principal, and have also been in administration all the way up to assistant superintendent."
Hilburn said she has run programs such as summer school, afterschool programs, targeted schools, restructured schools, closing down schools, opening new schools and has also taught in adult basic education.
"My desire for this position is to move education further," Hilburn said. "Education is the first and most important thing and you wouldn't be here today if it were not for education. I need to hear from you, the community, in order to help move education forward and impact the community."
The second part of the forum featured a discussion on the primary ballot regarding Medicaid expansion with State Sen. Royce West of Dallas and Dallas County Judge Clay Jenkins.
Jenkins explained to the audience what Medicaid expansion would mean to the community.
"Currently, Medicaid covers a population of pregnant women, children and some adults up to 100 percent of the federal poverty level," Jenkins said. "Expansion would raise that to 138 percent and that would cover 133,000 more people in Dallas County who currently have no health insurance. It would add $1.4 million in a day in health coverage to our hospitals here. It would provide over a $100 million in additional economic benefits to the County each year and to our local economy."
Jenkins broke down the statistics for those 133,000 people that would benefit from Medicaid expansion.
"Within those 133,000 people, it's anyone who works full-time and makes minimum wage," he said. "Currently, if you make minimum wage and you work 40 hours a week, you make too much money to be on Medicaid but because of the way the president set up the Affordable Care Act, it was understood that people that didn't have enough money to go out and shop for insurance plans in the market, they added this expansion. We are talking about real people who live in our neighborhoods."
West expanded on how Medicaid expansion would benefit the community.
"We are talking politics and politics is business and business is politics," West said. "That's the bottom line and that's what it comes down to. You have to be able to count and the reality is that I can count, and even though there were Democrats and Republicans that wanted to see this expansion during the last legislative session, the governor said no. If Texas had expanded Medicaid, over the next 10 years it would mean over $270 billion to the Texas economy yet the governor still said no. If we could of approved that in the last legislative session, it would mean that Texas could of insured an additional 3 million people."