A conversation with Dr. Zan Holmes Jr.
Michael McGee | 3/17/2014, 10:11 a.m. | Updated on 3/19/2014, 2:46 p.m.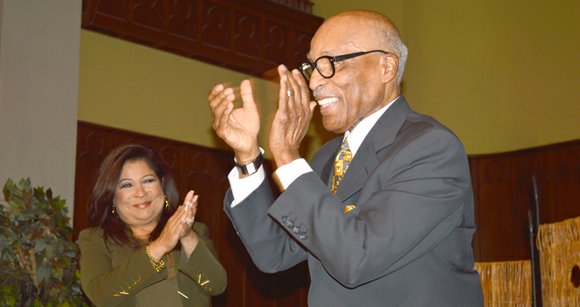 The Dallas Examiner
"I remember being a high school student in Fort Worth, Texas, in 1968 when Dr. Zan Holmes was first elected to the Texas Legislature. And already I knew that our country was changing," said Bishop Mike McKee of the North Texas Conference of The United Methodist Church. "It was the first time that I ever remembered, at least in the Dallas/Fort Worth area, that an African American had been elected to the Texas Legislature. And Zan Holmes was the face of that change for me, even as a high school student."
Masters' address was part of "In Conversation – An Evening with Zan Holmes," held at St. Luke's on Feb. 27. Veteran newscaster Clarice Tinsley hosted the event. The occasion was both a celebration of Holmes' work and a way for the community to learn more about the 79-year-old Texan. Church member Willie Coleman talked about why she felt such admiration for Holmes.
"He is so real. He won't lie to you. If he can't do it, he will tell you 'I can't do it; I will do it,'" Tinsley exclaimed about Holmes' unstoppable nature. "And you love that about a person that's honest with you."
Holmes spoke in a friendly, casual manner. He related tales of his life as the son of a Methodist pastor, born in San Angelo, the second child in a family of six. He told those in attendance that his parents made sure that he knew that he was loved. He also noted that his mother, Naomi, gave him most of his guidance.
"My mom was one of the most beautiful people that I've ever known. She was very gracious," he reminisced. "She always told me what I could become."
The family moved to Waco and later to Austin. He drew laughs from the audience when he discussed how, being a preacher's son, he had to be on his best behavior since many of his teachers went to his father's church.
"That was a problem," he chuckled.
From the stage Holmes and Tinsley talked about his father and his life as a pastor. This segment led the son to surprise many in the audience with the admission that he really didn't want to become a preacher.
"The people in the church always called me Little Zan, and they used to tell me that I was going to preach," he admitted. "You know, I got so tired of that, because I saw the way they treated my dad …"
Holmes paused as he laughed with the audience.
"I said the last thing I want to be is a preacher," he continued with laughter.
Composing himself, he said that he "ran from" becoming a preacher. Only until Holmes became a senior at Huston-Tillotson University in Houston did he feel the earnest tug of a ministerial life upon his soul.
"It was subtle and emotional," he said of his change of heart at the age of 20. The new path led Holmes to the Perkins School of Theology at SMU in 1956. It also introduced him to the formula of bigotry and inequity that permeated many a large Southern city at that time.