A conversation with Dr. Zan Holmes Jr.
Michael McGee | 3/17/2014, 10:11 a.m. | Updated on 3/19/2014, 2:46 p.m.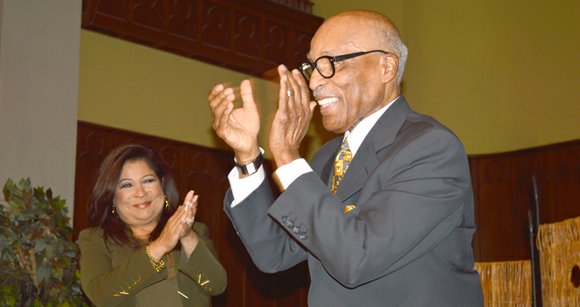 Afterward, Tinsley illustrated to the younger members of the ethnically mixed audience that Dallas was once a very different city.
"Segregation at that time was what the reality was; what Black people had to deal with," she explained.
As she and Holmes discussed the city during the mid-20th century, the reverend divulged a situation he encountered on Central Expressway while at Perkins. Tinsley set up the exchange.
"You heard a car crash in the distance and you went out to investigate the scene to get some help. And what you saw at the scene was a Black man bleeding very badly, and you saw four White first responders," she stated. The four men stood by the accident site, but didn't move.
Holmes picked up the story, prefacing his remarks as he acknowledged that he really didn't notice overt racism much in past cities he lived in. He said he was kept shielded from Waco's history, which included a brutal lynching in 1916. Dallas was a different story.
"I came to Dallas; my eyes were opened to that ugly disease called racism," he conceded.
Holmes said he questioned the men at the accident as to why they were not rendering aid. Their reply was that all they could do was stand by and wait for a vehicle from Black & Clark Funeral Home – the city's Black ambulance company – to be dispatched.
The audience was silent and still, enthralled in the nightmarish story, as Holmes continued.
"While we were there waiting for the ambulance from Black & Clark, that man died," he said.
"I could look into the eyes of the two White policemen, the two White ambulance drivers. I could see they were bothered by that, they wanted to do something but they were bound by that ugly disease called racism," explained Holmes.
"And I was also bound by it; I didn't know anything else I could do. But my eyes were opened, and I shall never forget that experience."
The incident made Holmes re-examine why he was at Perkins. He realized that becoming a preacher was no longer good enough for him, he stated.
"If what I did in the life of the church did not address that ugly disease called racism I didn't want to be a part of it." He said he was driven to work for the freedom and well-being of all people; the overt victims of racism and those caught up in other issues of social injustice.
Using the lessons of the past as a talking point, Tinsley asked Holmes about what improvement is currently needed in the city. He answered that Dallas lacked the unity other cities had despite its diversity.
"We never celebrate that as God's gift to the city, to the nation, to the world," he argued. "Instead, in many instances, we're threatened by it."
He offered that celebrating occasions like Martin Luther King Jr. Day should also be a time to unite in the city.
"How do we make it happen?" Tinsley asked.
Holmes smiled and said cautiously, "Well, I'm retired."
He said that the city's lost what he referred to as "social capital" – from bowling leagues to PTAs, Dallas is missing things that once united people with a shared cause.
"Everybody's moving in different directions," he said.
Moving people in a common direction is what Holmes had done for much of his life in Dallas. He talked about the early days of his church job and how no one wanted to be assigned St. Luke's. Over the years, the reverend was able to turn a congregation of 50 into a church family of thousands.
"Six thousand was as high as I counted," he told Tinsley. As the end of the conversation neared, the newswoman asked Holmes what life has taught him.
"We never get to the place where we never grow some more," he said. "I have learned that a key word for me is 'grow.'"