Building on a better STEM education for minorities
Houston Forward-Times | 3/17/2014, 10:07 a.m.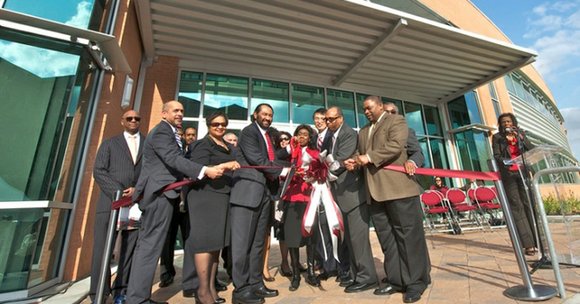 (NNPA) – With a a $31 million investment in Texas Southern University's current and future STEM students, the university's Board of Regents, administrators and faculty officially launched the dedication and ribbon-cutting ceremony of it's Leonard H.O. Spearman Technology Building.
The 107,791-square-foot gem features the latest in technology for instruction and research, and will help to offset the inadequacy of STEM education for African American and Hispanic students, which currently has a negative impact on U.S. economic power.
"Technology is going to be a great part of creating jobs for TSU graduates," said Dr. John Rudley, president of Texas Southern University. "This building, which is a great part of the legacy and vision of President Spearman, will not only be a place for students to train and study for the jobs of the future, but will provide them with the resources to participate in the research that our provost [Dr. Sunny Ohia] is pushing for."
Named after TSU's fifth president, the technology building houses 35 state-of-the-art labs, such as a full-motion flight simulator lab, a vehicle emission testing lab, an air traffic control lab, a high-performance computing lab, a construction lab, a Mini-TranStar lab, a driving simulation lab, two design labs, health and nuclear physics labs, a geotechnical/material testing lab, an environmental engineering lab, a wireless sensor networks lab and various other engineering, physics and computer science labs.
The building will house the departments of Aviation Science and Technology, Computer Science, Engineering Technology, Industrial Technology, Physics and Transportation Studies academic programs.
In addition to the labs, the facility is home to a new Tier 1 University Transportation Center, the Center for Transportation Training and Research, and the new National Science Foundation Center for Research on Complex Networks. Together with the Science Building, the Spearman Building forms a complex that brings all of the departments in the College of Science and Technology into one area of campus to better foster interdisciplinary research and learning.
State Sen. Rodney Ellis; U.S. Congressman Al Green; Naomi Lede, former technology dean and founder of the aviation science program; TSU Board of Regents; surviving family of Leonard H.O. Spearman; Lei Yu, dean of the College of Science and Technology; and other supporters of the College of Science and Technology were on hand and spoke at the dedication ceremony.
"I am so pleased to see this step in our college's evolution," Yu said. "As we build more interdisciplinary programs that focus on incorporating technology and research into potential careers for students, the facilities in this building will be critical to our success."