Connected City Design Challenge finalists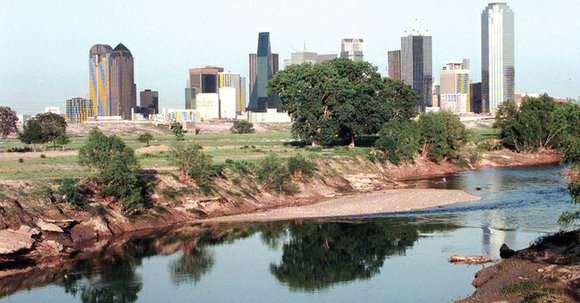 Special to The Dallas Examiner
The Connected City Design Challenge announced last week the finalists for the 2014 Challenge Professional and Open Stream contest. The design challenge was created in April 2013 to combine creative discovery with public gathering to discover ways of connecting Downtown Dallas with the Trinity River. Local and international submissions were received with three teams invited by the challenge jury to submit ideas. The Open Stream also called for participation from the broad design community including professionals, non-professionals, artists and students. The stream received more than 1,000 registrants and 107 ideas submitted from 23 countries and 21 design schools.
"The challenge has been a great success, delivering bold ideas across their submissions," said Brent Brown, director of Dallas CityDesign Studio. "We are thankful to the jury for a job well done. The themes and ideas selected by the jury offer the community a path forward and we look to continuing this work and connecting our city."
During judging, finalists illustrated the power of ideas and how design can overcome physical challenges to the jury panel. The challenge jury extended special recognition to Stoss +SHoP for their scheme of Hyper-Density Hyper Landscape.
"The success of the competition and provocative ideas it generated set the stage for a sustained agenda to reconnect Downtown Dallas and the Trinity River," said Larry Beasley, the challenge jury chairman.
The public can vote on their prefered design concept from now until Nov. 9 at the Dallas Museum of Art, located at 1717 N. Harwood Ave. For more information, call 214-670-3565 or visit http://www.connectedcitygallery.
Connected City Design Challenge Finalists
The Professional Stream
• Stoss + SHoP, Boston, Mass.: HyperDensity/HyperLandscape
• Ricardo Bofill Taller de Arquitectura, Barcelona, Spain: Dallas: Downtown &Trinity
• OMA*AMO, New York, N.Y.: 2Rivers/2Datums
The Open Stream
• Kohki Hiranuma of Kokhi Hiranuma Architect & Associates, Osaka, Japan: Forest
• Bogdan Chipara of Constanta, Romania: Bridging
• Raik Thonig of University of Texas at Arlington, Arlington, Texas
• McLain Clutter of University of Michigan, Ann Arbor, Michigan