Imagine 2020 initiative coming to life for students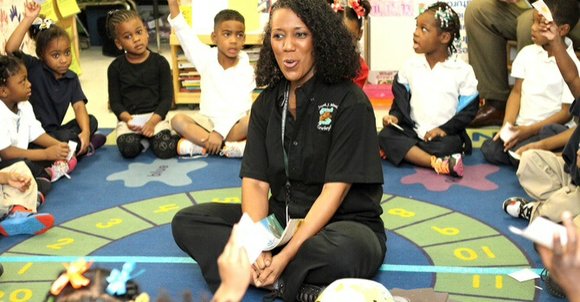 Special to The Dallas Examiner
Dallas ISD Superintendent Mike Miles and district officials visited schools in the Imagine 2020 initiative last week to see how the program was taking shape. Imagine 2020 is an initiative with Destination 2020, the district's plan to improve academic achievement in every Dallas ISD classroom and ensure students are college and career ready when they graduate. The group traveled by school bus to West Dallas to visit Raul Quintanilla Middle School followed by J.J. Rhoads Learning Center in South Dallas. It was clear that each student was engaged in learning and staff and students at both schools are embracing the initiative.
"I am encouraged by the work being done through Imagine 2020," Miles said. "We are in the early stage of the initiative, so we certainly have more ground to cover in order to move our students forward."
In addition, the group also observed team teaching at Quintanilla and visited a science class that was using Chromebooks as part of the innovative models for blended learning. Alliance Data was one of the first companies to step up and support the in-school tutoring component of Imagine.
"Seeing the program's impact on these children first-hand was incredibly fulfilling, and further emphasized the need for companies like us to join the mission," said Aimee Fisher, community relations specialist with Alliance Data. "We believe this program provides students the same opportunities other students have access to across the state, which is a crucial component to ensuring our community's investment in the success of our future workforce."
For more information, visit http://www.dallasisd.org/imagine2020.