Our Civil Rights in Reflection
Local exhibit offers personal reflections of Civil Rights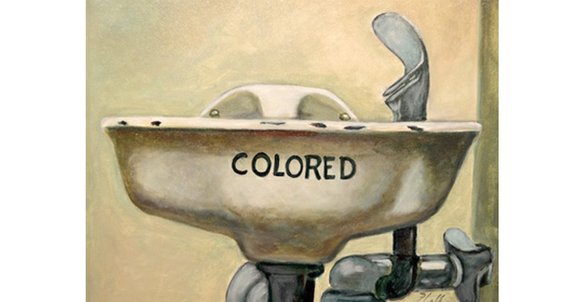 The Dallas Examiner
The Arthello Beck Gallery, located inside the South Dallas Cultural Center at 3400 S. Fitzhugh Ave., recently wrapped its latest exhibition, "It's My Right: A Community Reflection on the 50th Anniversary of the 1964 Civil Rights Act." The art show, which opened Feb. 8 and closed March 1, included numerous local artists. Each creator explored an aspect of equality while the American civil rights legislation served as a philosophical backdrop.
Vicki Meek, the manager for the South Dallas Cultural Center, felt the historic decree needed to be addressed in a creative and inclusive way.
"This was a way of having the artist community respond to that landmark piece of legislation," she said. "It was very well received by the public," Meek added.
Artists were recruited via an open call through the cultural center.
Kijana Martin was one of those artists who stepped forward. As a life coach and as a Black woman, Martin felt that she needed to lend her creative hand to the recognition of such groundbreaking legislation.
She revealed that her pieces, It's Your Right, Communicate, and Preservation dealt with HIV/AIDS and its effect on the Black community.
Equal rights include equal education and equal access to health care, Martin believes. She expressed that in creating the art she wanted viewers to reflect on what they could do to help lessen the spread of the disease in society.
"As Black women, it is our responsibility – we have a heavy responsibility – in making sure that we survive and exist," she explained.
Martin cited that Black women currently have the highest rate of contracting HIV; 60 percent, more than any other demographic.
"There's a lot of focus on areas of improvement in the Black community but at the same time I think that there's not enough focus on the HIV and AIDS epidemic in the community," Martin lamented.
Chris Fulmer, professor emeritus at North Lake College, was another artist involved with the exhibition. She said that she joined the show because it was something different for her to explore.
"It's not the typical theme that I use," she stated. Fulmer revealed that her art usually involves cowboys and the Wild West, or birds and nature. She said using civil rights as a point of artistic inspiration intrigued her.
She said that she told herself, "This will be a fun and interesting and personal challenge to try to accomplish." The result was Energy in the Sadness, 1968, Abilene, Texas.
Fulmer echoed Martin, acknowledging that the art project resonated to her personally.
"I took a line from The Beatle's song Blackbird, which is Paul McCartney addressing the issues of civil rights and the violence of that period," Fulmer explained.
She applied the lyric as well as other text to her painting, and then added some three-dimensional objects.
"I used domino and dice pieces because at one point in my text I said that, that moment when Martin Luther King died, we were no longer playing games. It became very serious," Fulmer continued.