Our Civil Rights in Reflection
Local exhibit offers personal reflections of Civil Rights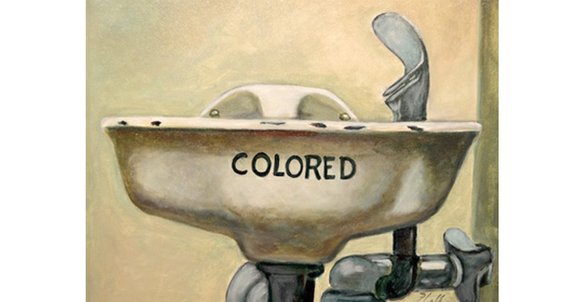 The black and white objects represented the two races, she illustrated. The addition of a red die represented violence as well as the heart of the movement.
"As a past-middle-aged White woman who grew up in a small West Texas town we were still affected by the activities of that period," she insisted. "I felt like I had a little bit of a voice to say, too, because we at that time were curious, struggling, [and] active in that movement." Fulmer hoped that her artwork revealed that there were many voices from that time period.
Exhibitions such as "It's My Right" are important to Fulmer.
"It did call for so many kinds of perspectives to look at this topic," she acknowledged. "I think it's always good when we get people to think, either because they're creating the work or people to think because they're getting to look at the work."
In agreement, Meek spoke about how the exhibition was intended to make visitors think about the past, as well as where the movement is presently.
She also pointed out that the exhibition was not the only gallery event intended to bridge history, art and the community. The cultural center has tapped artist Deborah Roberts for another special event.
"She is going to be looking at work related to the Black woman because March is when we celebrate Black Women's Month in connection with National Women's History Month," said Meek.
That exhibition opens March 15.